Ballard tapped to provide hydrogen fuel cells to two projects
February 19, 2015
0
By
Stephen Vagus
Fuel cell developer will supply energy systems to projects supported by the Federal Transit Administration
Ballard Power Systems, a prominent developer of hydrogen fuel cells, has announced that it will be supplying 10 of its FCvelocity-HD6 fuel cell modules to two projects involved in the Federal Transit Administration's Low and No Emission Vehicle Deployment Program. These projects have been awarded funding from the federal agency because of their use of fuel cell buses, which consume hydrogen. Ballard Power Systems will be working with BAE Systems, a developer of hybrid drive components, and ElDorado National, a manufacturer of buses.
SunLine Transit Agency will purchase five new hydrogen-powered buses
SunLine Transit Agency has received $9.8 million in funding from the Federal Transit Administration, which will be used to purchase five fuel cell buses. This purchase will double the size of the company's hydrogen bus fleet and allow it to expand into Coachella Valley, California. The fuel cells that the new buses will be using are developed by Ballard, which has extensive experience in designing hydrogen fuel cells that are used in transportation.
SARTA to experiment with fuel cell buses in crowded downtown areas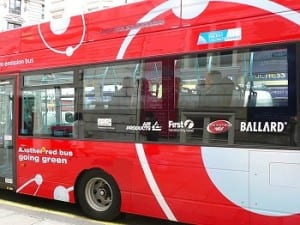 The Stark Area Regional Transit Authority (SARTA), which operated in Canton, Ohio, has also received $8.8 million from the Federal Transit Administration. This money will be used to purchase new fuel cell buses as well. These buses will be operated in downtown areas, where traffic is often congested. This will offer an opportunity for SARTA to tests the buses and how well they perform in such an environment.
Fuel cells are becoming more popular in public transit
Hydrogen fuel cells are gaining more notice in the public transit space. Federal agencies are interested in seeing more fuel cell buses be put to use, as they represent a way to cut down on the emissions associated with public transportation. Funding projects that are focused on fuel cell buses and other means of clean transportation has become a priority for the Federal Transit Administration. The Department of Energy is also investing in projects that would accelerate the adoption of hydrogen fuel cells in the transportation space.