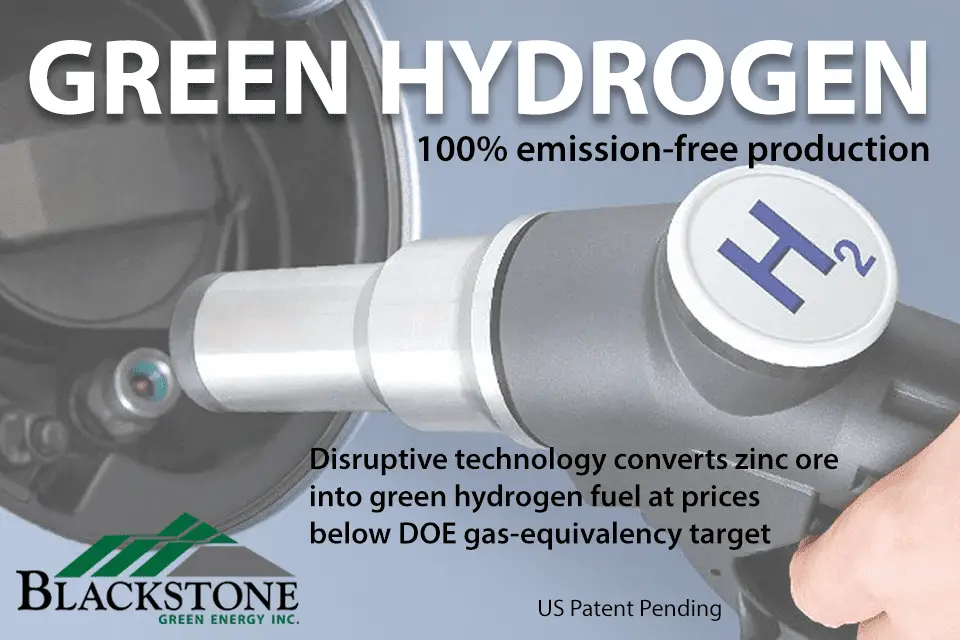 Blackstone Green Energy Develops Patent-Pending Process for Converting Zinc Ore into Green Hydrogen Fuel
January 25, 2018
Blackstone Green Energy, Inc. has developed a patent-pending process for converting zinc ore into hydrogen fuel.
Blackstone's technology creates strictly "green" hydrogen, which means the production cycle does not burn fossil fuels or release greenhouse gases into the atmosphere. This represents a significant improvement over "brown" hydrogen-production techniques, such as steam reformation, which burn large amounts of natural gas to produce relatively small amounts of hydrogen.
Dubbed the Green Energy Machine ("GEM"), the process utilizes the well-established technique of zinc hydrolysis to produce hydrogen (water splitting). The process uses solar-powered ovens to heat finely ground zinc ore to a minimum of 912 °C. The resulting fumes are then introduced to water in a closed-circuit filtration reactor to produce hydrogen and zinc oxide.
The zinc oxide is reprocessed with biomass in a hydrogen-solar powered reactor to reduce the required temperature for dissociation to zinc powder, which can then be used to repeat the hydrogen production cycle multiple times. The company plans to offer Blackstone zinc powder as an economical, environmentally conscious method of producing hydrogen at the actual point of use, thus reducing or eliminating transportation, pipeline, and distribution costs. The technology is based on the proven science behind the European Union-funded SOLZINC project that successfully used solar power to store energy using zinc ore.
The company obtains zinc ore from its wholly owned Blackstone Mine complex in Elmore County, Idaho, a major zinc-copper-silver deposit (USGS, Scientific Investigations Report 2016-5089, Chapter C). Only a tiny fraction of the 100-acre complex, containing more than 250,000 tons of hydrogen-compatible ore reserves, has been developed thus far for hydrogen production.
The company plans to construct a hydrogen-manufacturing plant at the Blackstone property in 2018 and begin offering zinc powder for hydrogen production at the point of use the following year. The plant will be self-contained and powered by a combination of solar and hydrogen fuel to produce hydrogen, zinc powder, zinc oxide, and a polymetallic matte bullion byproduct containing commercial amounts of copper, lead, silver, and gold.
Highlights of the company's technology include:
Emission-free production of green hydrogen
No burning of fossil fuels required
No energy costs from electrolysis of water
Reduced transportation costs
Point-of-use hydrogen production
Potential to undercut DOE gas equivalency target prices.
Environmentally conscious hydrogen production to help combat climate change.

About Blackstone Green Energy, Inc.
Blackstone Green Energy, Inc., a wholly owned subsidiary of Blackstone Mining Company, Ltd., is a privately held Idaho corporation. The company has developed a patent-pending technology it calls the Green Energy Machine ("GEM"), which converts raw zinc ore into green hydrogen fuel. GEM is based on the well-known method of zinc hydrolysis and leaves no carbon footprint. To learn more, visit www.blackstonegreenenergy.com.
About the Blackstone Mine complex
The Blackstone complex consists of five contiguous, federally patented mining claims (100 acres) located in Sections 13, 14, and 15, T.2 S., R.10 E., Boise Meridian, approximately 85 miles southeast of Boise, Idaho. The claims were patented in 1906 by Blackstone Mining Company, Ltd., the parent company of Blackstone Green Energy, Inc. Blackstone Mining Company was incorporated by former Idaho Governor James H. Hawley and his partners in 1899, making the Blackstone one of the oldest and largest single-owner mining properties in Idaho's Volcano Mining District. The current proven and probable hydrogen compatible ore reserves at the property, based on current commodity prices, are estimated at $415.5 million not including the values from the sale of hydrogen via the GEM process. When fully deployed, GEM technology could increase the current hydrogen compatible reserve values to $1.5 billion. To learn more, visit www.blackstonemine.com.
Forward-looking statements
This news release contains forward-looking statements and information within the meaning of the Private Securities Litigation Reform Act of 1995. Words such as: anticipate, believe, could, estimate, expect, intend, may, plan, potential, predict, project, target, should, would, and similar expressions are intended to identify forward-looking statements, although not all forward-looking statements contain these words. Actual results or events could differ materially from the plans and expectations disclosed in these forward-looking statements as a result of various factors, including the company's ability to obtain adequate financing and deploy the GEM technology on a large scale, price fluctuations in the hydrogen and metals markets, and changes in governmental regulations. Accordingly, the reader should not place undue reliance on forward-looking statements.
MEDIA CONTACT
Jim Hawley, (702) 204-7699
E-mail contact: [email protected]
Company website: www.blackstonegreenenergy.com