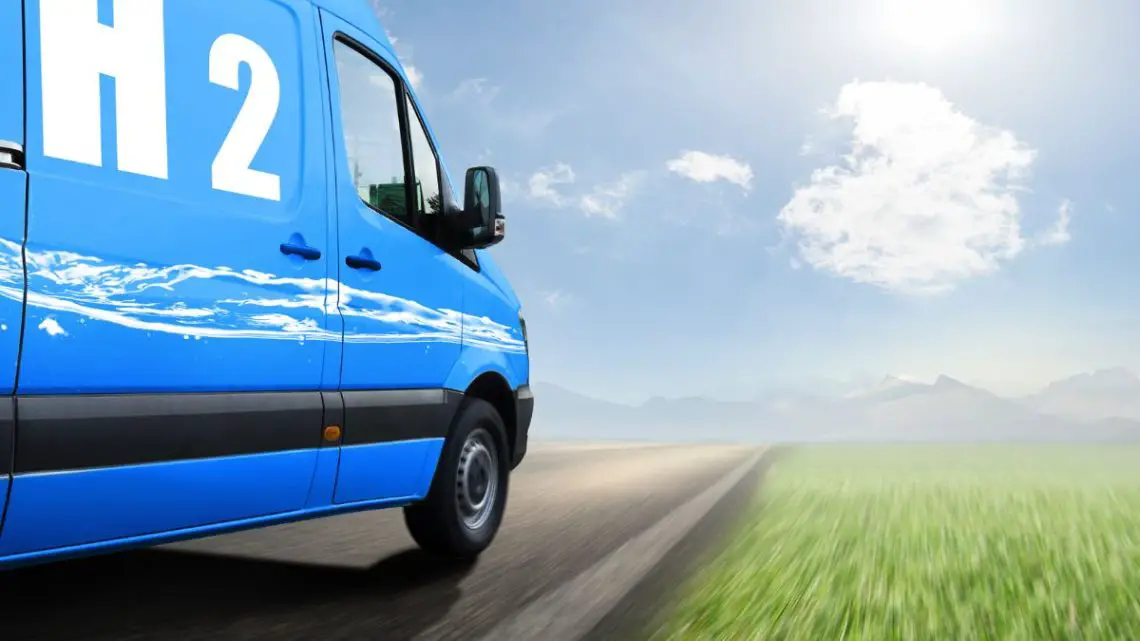 SL – First Hydrogen (FHYD) is Coming to Market
September 15, 2023
Ever heard of Plug Power? 
You probably haven't, and I don't blame you. 
To give you some brief context, it's an American publicly traded company engaged in the development of hydrogen fuel cell systems.
And it was essentially a dead stock for over a decade – between 2009 and 2019.
As oil fracking took over and the fight against climate change took the backseat, so did many renewable energy firms.
But that all changed after 2020…
As the world realized the race towards net-zero was only going to ramp up, major companies – like Walmart and Amazon – began to see the appeal in hydrogen energy and fuel cells. 
And by then, Plug Power had already slowly and quietly consolidated into a major hydrogen player.
Because of this, Plug Power's stock soared over 23-times in just two years (2019 to 2021).
Now, I won't sugarcoat it – Plug Power has had an incredible run, and the world has taken notice. But the stunning returns have been relatively priced in already, and the stock has experienced a slight dip due to profit-taking and a slowdown in the global economy. 
Imagine discovering an under-the-radar company that's perfectly positioned to ride the wave of the surging hydrogen energy market. 
Lucky for us, this hidden gem is waiting to shine.
And the best part is that it's not on anyone's radar yet…
First Hydrogen Corp.
(Canada: FHYD, USA: FHYDF)
A Unique Hydrogen Play That's Ready To Move
The global logistic industry is in dire need of help to meet emission standards. 
And FHYD has made big moves towards filling these gaps with hydrogen energy.
In fact, FHYD is in a 'closed-loop' that's capturing every aspect of the hydrogen value-chain, such as:
Selling next generation, zero emission, commercial vehicles.
Supplying hydrogen in refueling stations.
And producing hydrogen energy.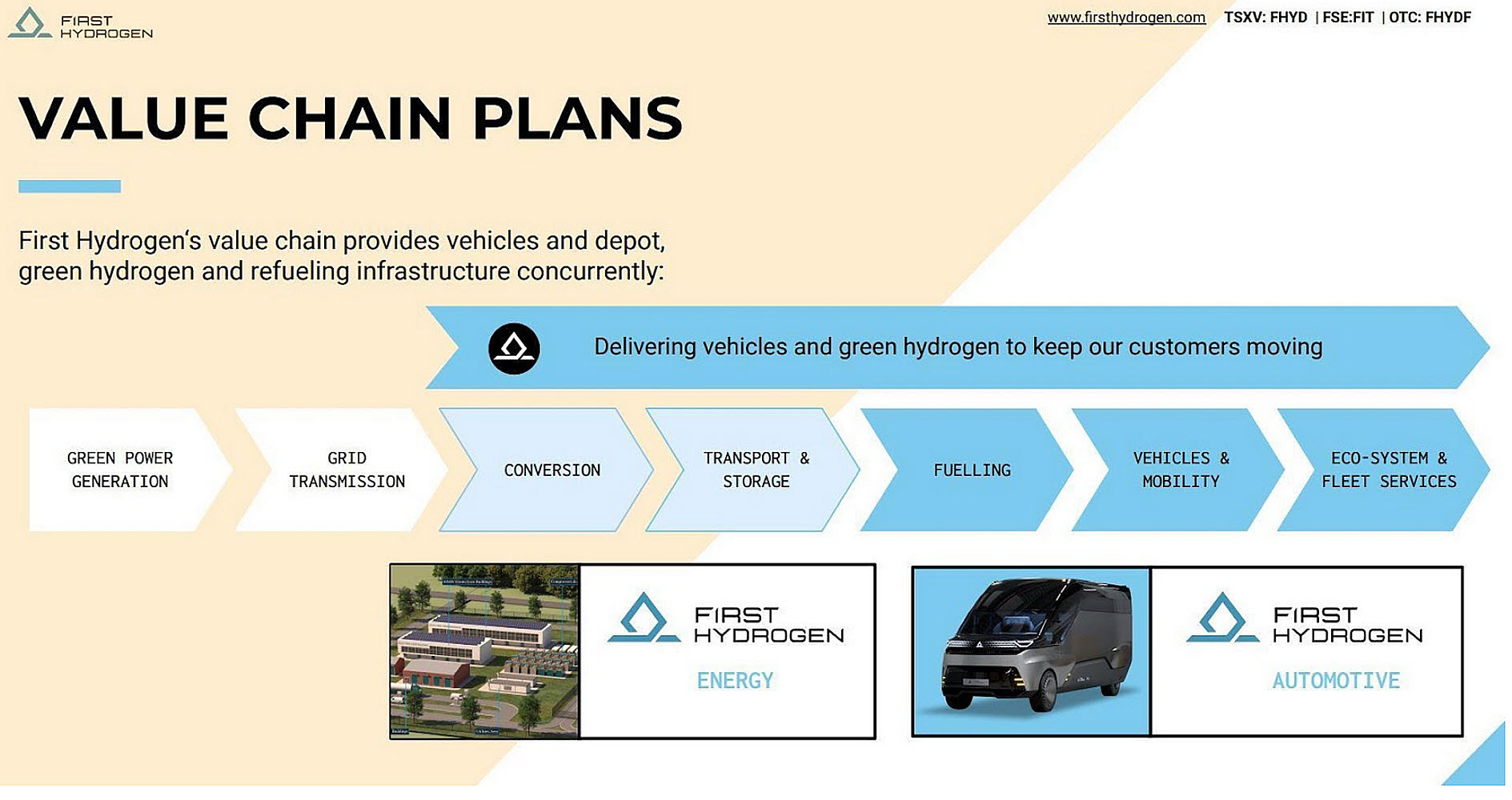 Doesn't this 'closed-loop' concept remind you of someone else? It should.
It's just like what Tesla did for electric vehicles, batteries, and charging stations, but FHYD is doing the same for the hydrogen commercial market. 
And while I won't go as far as calling them the Tesla of hydrogen just yet, we can't rule out the potential here.
Now, let's dive into the captivating angles of FHYD's 'closed-loop'.
Zero-Emission Commercial Vehicles – So Far, So Good
FHYD's commercial zero-emission vehicles (ZEV) are true game-changers. 
Their fuel cell vehicles outperform equivalent battery electric vehicles (BEV) in both range and load-carrying capacity.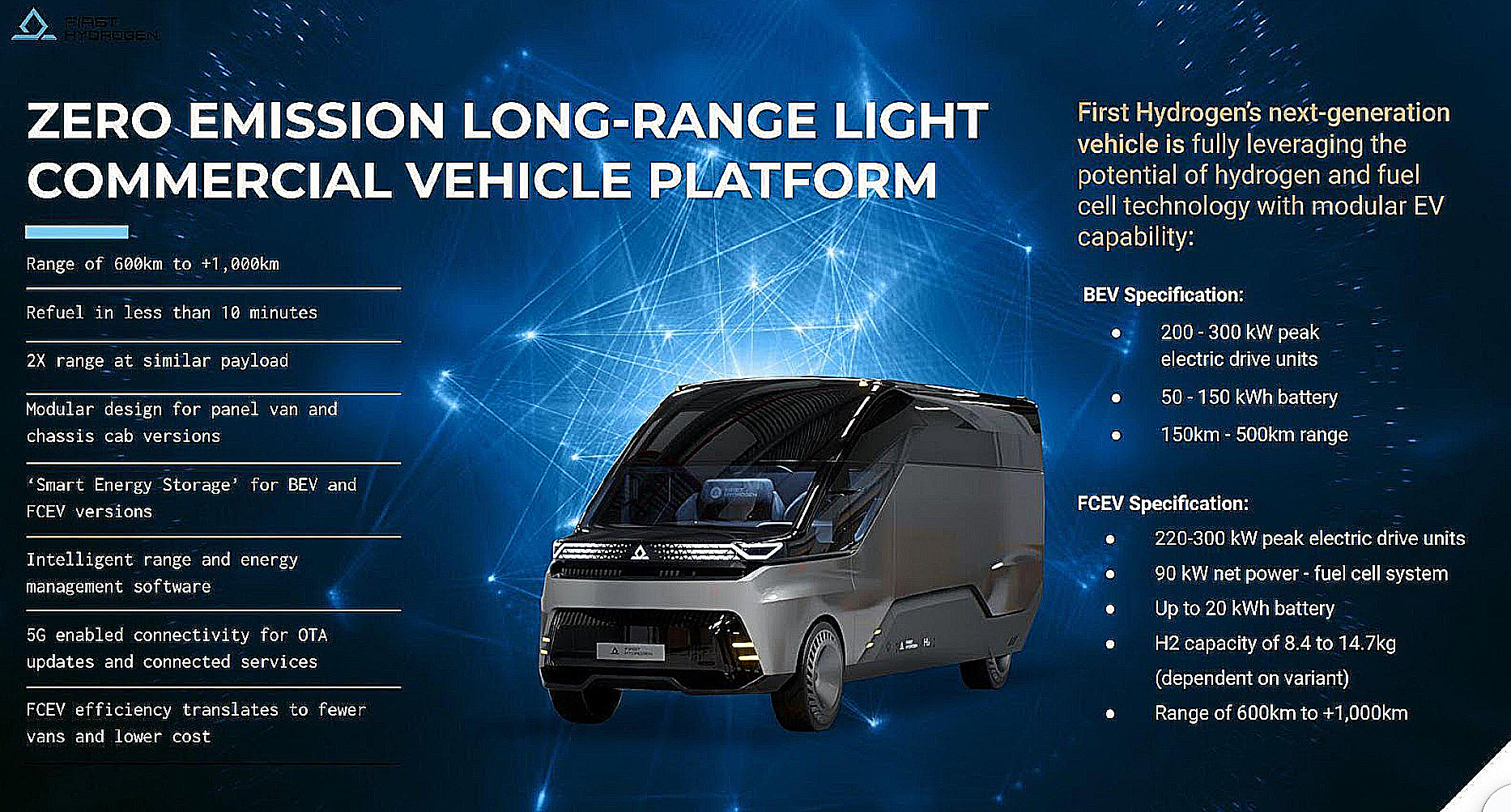 And with fast refueling times of approximately 5 minutes (that's over 6000% faster than BEV charging), they'll keep fleets on the road longer, not idling around a charging station for 5 hours. 
The world is moving towards more eco-friendly logistics.
Especially in commercial transportation and companies are already singing praises about FHYD's vehicles. 
For instance, SSE PLC – the UK's largest energy infrastructure company – used FHYD's vehicles for two weeks, and the feedback was nothing short of praise.
"First Hydrogen's van is very pleasing to drive and is much smoother than my diesel vehicles. The zero-emission van will obviously improve the environmental impact of our day-to-day operations, but it has the additional benefit of performing well in city driving and recharging its battery during use, which gives it an impressive range"
One of the UK's leading fleet management companies, Rivus, trialed FHYD's vehicles for 4 weeks also the overall experience was "Brilliant".
First Hydrogen Corp. is expanding trials with 14 other UK Fleet Operators, ranging from grocery, utility, and health care.
And they recently announced that are setting up trials across North America.
Whether it's in the ever-growing ecommerce market or public transportation, efficiency and zero-emission will be critical in the years to come.
And the FHYD engineers have done something special to fill that gap with their hydrogen powered vehicles. 
Hydrogen Refueling Stations – Steady Demand in A Growing Area
The biggest issue right now is the lack of hydrogen fueling stations. 
But the recent push by global governments – from the U.S and U.K to the EU and China – is spending huge amounts of money to make sure this infrastructure is set.
In fact, according to MarketsAndMarkets, the hydrogen fueling station market is set to grow at 16.8% compounded annually between 2023 to 2030.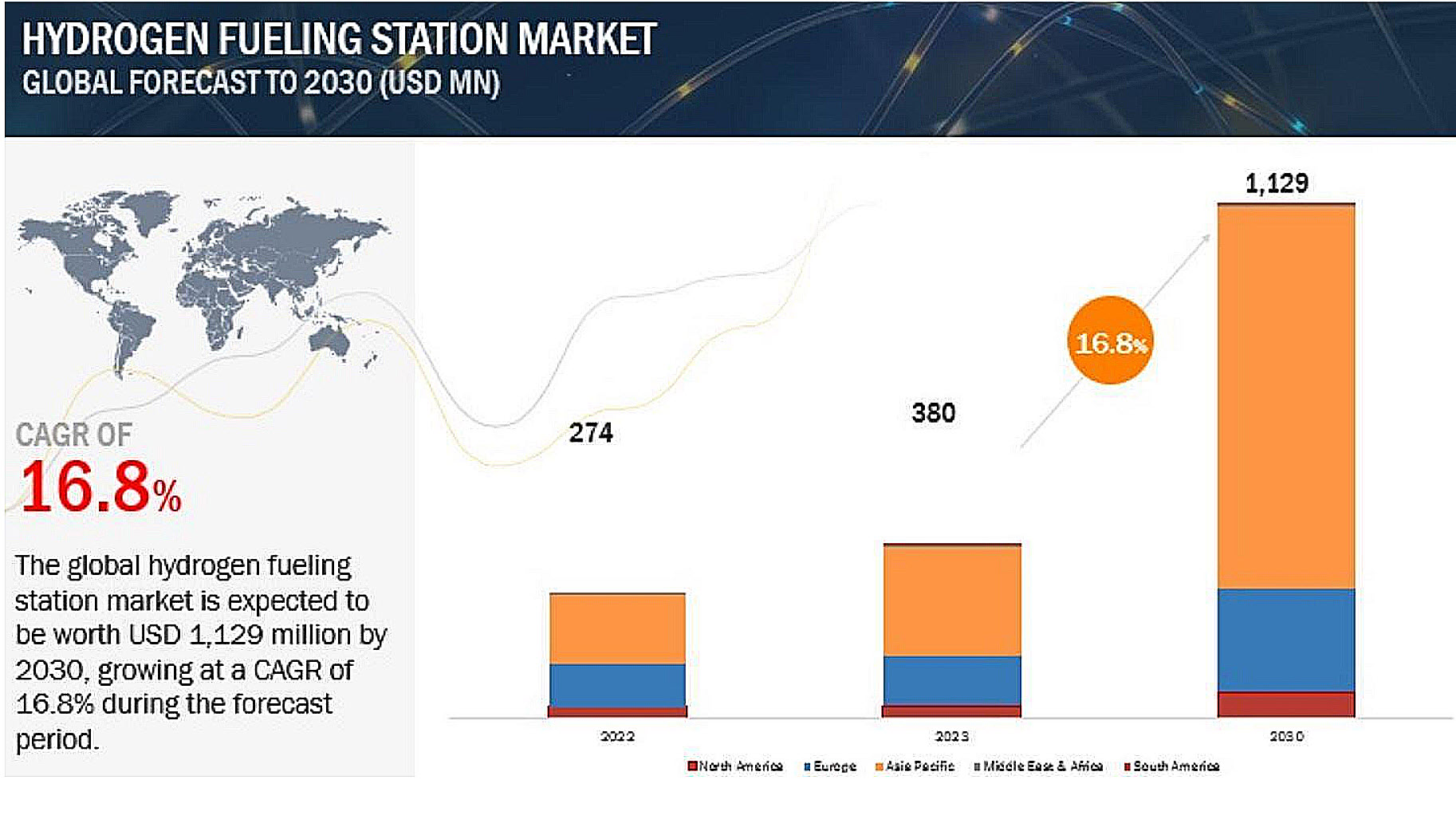 The world is witnessing an impressive surge in the development of fuel cell vehicles, but there's a crucial area that demands immediate attention – refueling services. 
FHYD is not just stepping up to fill this void; they are primed with a goal to dominate the market with their visionary projects and cutting-edge refueling services.
But what makes FHYD's offering even more compelling is their commitment to producing 'green' hydrogen. 
This game-changing fuel is derived from the electrolysis of water, powered solely by renewable energy sources. The result? An eco-friendly, emission-free hydrogen that is the epitome of sustainability.
With FHYD's hydrogen-as-a-service value, the company secures a significant market share and opens doors to a lucrative revenue stream.
Imagine the profitability of gas processing and refining industries – FHYD aims to replicate that success in the clean hydrogen sector.
The closed-loop system meticulously crafted by FHYD's top management – comprising some of the best minds in the industry – ensures that every aspect of hydrogen production and utilization is maximized for success. 
It's a strategy built for greatness, and FHYD is fully prepared to seize every opportunity as the hydrogen market and fuel cell revolution continue to soar.
Click Here to access the CarbonCredits.com report on First Hydrogen Corp.
Disclosure – Author: Carbon Credits – Sponsored Article

IMPORTANT DISCLAIMER
Carbon Credits, as a publisher, is not a broker, investment advisor, or financial advisor in any jurisdiction. Please do not rely on the information presented by Carbon Credits as personal investment advice. If you need personal investment advice, kindly reach out to a qualified and registered broker, investment advisor, or financial advisor. The communications from Carbon Credits should not form the basis of your investment decisions. Examples we provide regarding share price increases related to specific companies are based on randomly selected time periods and should not be taken as an indicator or predictor of future stock prices for those companies.
First Hydrogen Corp. has reviewed and sponsored this article. The information in this newsletter does not constitute an offer to sell or a solicitation of an offer to buy any securities of a corporation or entity, including U.S. Traded Securities or U.S. Quoted Securities, in the United States or to U.S. Persons. Securities may not be offered or sold in the United States except in compliance with the registration requirements of the Securities Act and applicable U.S. state securities laws or pursuant to an exemption therefrom. Any public offering of securities in the United States may only be made by means of a prospectus containing detailed information about the corporation or entity and its management as well as financial statements. No securities regulatory authority in the United States has either approved or disapproved of the contents of any newsletter.
Carbon Credits nor any employee of Carbon Credits is not registered with the United States Securities and Exchange Commission (the "SEC"): as a "broker-dealer" under the Exchange Act, as an "investment adviser" under the Investment Advisers Act of 1940, or in any other capacity. He is also not registered with any state securities commission or authority as a broker-dealer or investment advisor or in any other capacity.
HIGHLY BIASED: In our role, we aim to highlight specific companies for your further investigation; however, these are not stock recommendations, nor do they constitute an offer or sale of the referenced securities. Carbon Credits has received cash compensation from First Hydrogen Corp as reported in their July 28, 2023 news release and is thus extremely biased. It is crucial that you conduct your own research prior to investing. This includes reading the companies' SEDAR and SEC filings, press releases, and risk disclosures. The information contained in our profiles is based on data provided by the companies, extracted from SEDAR and SEC filings, company websites, and other publicly available sources.
HIGH RISK: The securities issued by the companies we feature should be seen as high risk; if you choose to invest, despite these warnings, you may lose your entire investment. You must be aware of the risks and be willing to accept them in order to invest in financial instruments, including stocks, options, and futures.
NOT PROFESSIONAL ADVICE: By reading this, you agree to all of the following: You understand this to be an expression of opinions and NOT professional advice. You are solely responsible for the use of any content and hold Carbon Credits, and all partners, members, and affiliates harmless in any event or claim. While Carbon Credits strives to provide accurate and reliable information sourced from believed-to-be trustworthy sources, we cannot guarantee the accuracy or reliability of the information. The information provided reflects conditions as they are at the moment of writing and not at any future date. Carbon Credits is not obligated to update, correct, or revise the information post-publication.
FORWARD-LOOKING STATEMENTS: Certain information presented may contain or be considered forward-looking statements. Such statements involve known and unknown risks, uncertainties and other factors which may cause actual results or events to differ materially from those anticipated in these statements. There can be no assurance that any such statements will prove to be accurate, and readers should not place undue reliance on such information. Carbon Credits does not undertake any obligations to update information presented, or to ensure that such information remains current and accurate.