General Electric to participate in Vietnam wind energy sector
June 3, 2016
GE to build new wind farm in Vietnam to expand country's clean energy capacity
General Electric has entered into an agreement with the Vietnamese government to develop a new wind energy system. The new wind farm will help expand the country's clean energy capacity and enable it to distance itself from fossil-fuels. The agreement follows President Obama's recent visit to Asia, during which time several commercial agreements were formed between companies in the United States and those in Vietnam. Some of these companies will be working with the Vietnamese government.
New wind farm will have a 1 GW capacity
Per the agreement, General Electric will develop a new wind farm that will be capable of producing 1 gigawatt of electrical power. The country already has other wind power systems, some of which actually make use of turbines developed by General Electric. One such wind farm generates approximately 100 megawatts of energy. The United States Trade and Development Agency is also seeking a partnership with the Vietnamese government to build another wind farm, which will have a capacity of 300 megawatts.
Vietnam aims to expand its wind energy capacity to 6,000 MW by 2030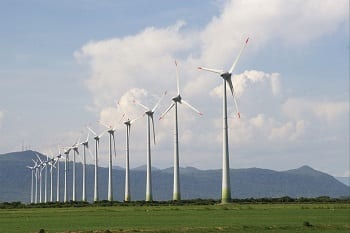 Vietnam intends to increase its use of renewable energy significantly in the coming years. The country has a plan to increase its hydropower capacity from its current 17,000 megawatts to 21,600 megawatts by 2020. Wind power will also receive attention from the country. Currently Vietnam is home to 140 megawatts of wind capacity, but this will grow to more than 6,000 megawatts by 2030. The Vietnam wind energy market will likely become more attractive to developers due to government incentives emerging in the coming years.
Vietnam wind energy sector may benefit from offshore projects in the future
Wind power has become a very attractive form of renewable energy for many countries. Those with access to large expanses of open water can benefit from offshore wind farms as well, which have the potential to generate more electrical power than their onshore counterparts. Offshore systems are, typically, more expensive to develop, but could introduce countries that use them to new economic opportunities.