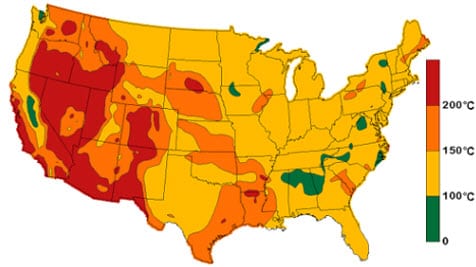 Geothermal Energy Association reports on growth seen in the U.S.
April 9, 2012
Geothermal energy being tapped in the United States
Geothermal energy is experiencing strong growth in the U.S. according to the Geothermal Energy Association. Geothermal energy has been growing in popularity in the U.S. recently as an alternative to fossil-fuels. The country is focused on an "all-of-the-above" energy plan which has it pursuing various renewable fuels. Geothermal power is common in Japan, where the energy is used to heat homes throughout the country. The association has released a new report showing the growth of the geothermal industry in 2011.
According to the report, more than 91 megawatts worth of geothermal energy systems were installed in the U.S. last year.
These installations brought the total capacity for the country up to 3,187 megawatts of electricity – more than any other country on the planet.  The Geothermal Energy Association suggests that this growth is largely due to improving economic conditions that are making alternative energies more attractive to private and government investments. This growth is expected to continue this year.
Geothermal Energy Agency Executive Director Karl Gawell notes that more than 100 megawatts worth of geothermal energy systems are scheduled to be installed throughout the country this year. These projects are benefiting from a number of federal tax credits and financial support from the Department of Energy. The DOE has taken a keen interest in geothermal power and has been promoting it as one of the fuels that will help the U.S. establish its energy independence.
California is leading the way in terms of geothermal, with more than 2,500 megawatts of installed capacity and another 2,000 megawatts currently in development.
Nevada, however, has the most geothermal energy systems, with 59 currently operational. There are also geothermal energy systems operating in Alaska, Hawaii, Idaho, Oregon, Utah, Wyoming, Arizona, Colorado, Louisiana, New Mexico, North Dakota, Texas and Washington. Gawell believes that geothermal energy will continue to grow at a rapid pace alongside other alternative energies, such as solar, wind, hydrogen, nuclear, and biofuel.
Federal lawmakers are scheduled to meet with leaders in the geothermal energy industry on May 23, 2012, in Washington, D.C., at the International Geothermal Energy Showcase.