Hydrogen fuel powered bus makes green technology news in Alabama
April 17, 2014
0
By
Julie Campbell
This public transportation vehicle starts a new pilot program with no exhaust and no emissions.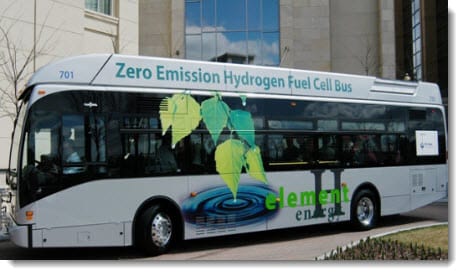 The U.S. Transportation Secretary, Anthony Foxx, was in Birmingham, Alabama on Wednesday for the launch of a hydrogen fuel cell powered city bus that will begin a brand new green technology pilot program in the region.
This bus represents the start of what is hoped to be a much larger environmentally friendly effort.
The hydrogen fuel powered bus will be operated by the Birmingham Jefferson County Transit Authority and the UAB and will produce no tailpipe emissions. For the next 18 months, it will be running on the downtown routes in order to be able to test the green technology's performance and reliability. The funding for this HFC bus was provided to the UAB Department of Civil, Construction, and Environmental Engineering for a total of $2 million.
People will be watching the success of this hydrogen fuel powered public transportation project.
According to officials in the city, this bus is one of only a few that have been manufactured around the globe. Moreover, Birmingham will soon become the home of the only HFC bus and fueling station in the Southeast. It is more than likely that other municipalities will be keeping a close watch on the successes and challenges of this green energy pilot in order to be able to consider their own options in removing fossil fuel powered vehicles from their own public transit systems.
Researchers are hopeful that this vehicle demonstration will promote the design of improved fuel cells and that bus fleets – and ultimately cars – will become increasingly developed and available as a result.
On Wednesday, Foxx boarded this new bus and toured around several of the landmarks in Birmingham. He also spoke briefly about the Morris Avenue intermodal site that has been planned. The construction of that intermodal transit station is expected to cost $30 million. Of that, $24 million was provided by federal grants, and the city added the remaining $6 million.
The new bus is powered by hydrogen fuel cells that operate using storage tanks as well as the oxygen in the air, in order to generate the electricity necessary for running the vehicle.
About The Author
Julie Campbell is a veteran news writer with a primary focus on hydrogen fuel and renewable energy, technology, health and wellness. Campbell has been the head of a freelance writing company since 2003...READ MORE