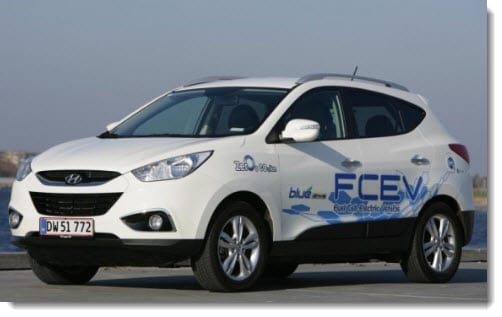 Hyundai changes plans concerning hydrogen fuel
March 4, 2013

Hyundai revisits plans concerning hydrogen fuel and the Tucson ix35
Hyundai is expected to be one of the first major automakers to produce hydrogen-powered vehicles for the global market. The South Korean company has been aggressively promoting its Tucson ix35, which runs on hydrogen fuel, for the past two years and has managed to attract a significant amount of attention to the vehicle. The Tucson ix35 is, technically, available today, but only to government parties and operators of large vehicle fleets. Hyundai had originally planned to begin mass producing its hydrogen-powered vehicle by the end of 2013, but those plans have changed.
Automaker pushes mass production ahead of schedule
Hyundai has announced that it has revised its plans concerning the mass production of its hyped Tucson ix35. Many other automakers in the auto industry have also revised their plans concerning hydrogen fuel and its use in transportation. Most of these companies have chosen to push back the date of the official launch of these vehicles, but Hyundai has chosen to push its plans for mass production forward. Hyundai has announced that it will begin mass production on the Tucson ix35 by the end of this week.
Sales expected to be limited until global infrastructure takes form
While the Tucson ix35 is slated for mass production well ahead of Hyundai's initial plans, the automaker does not expect the vehicle to sell well until global markets become more accommodating of hydrogen fuel. Much of the world currently lacks a fuel infrastructure capable of supporting the widespread adoption of hydrogen-powered vehicle. The most expansive infrastructures currently in place can be found in Japan and some parts of Europe. Many countries are working to expand their hydrogen fuel infrastructure, but Hyundai does not predict such efforts to be fruitful until at least 2015.
Tucson ix35 gains acclaim for performance and use of hydrogen fuel
By 2015, Hyundai expects to have sold 1,000 models of the Tucson ix35 globally. The vehicle has been reviewed by several parties over the course of its existence, with Bloomberg suggesting that its performance is slightly behind that of more conventional vehicles. The Tucson ix35 has won nearly universal acclaim for its ability to perform better than most other clean vehicles, however, due to its use of hydrogen fuel.