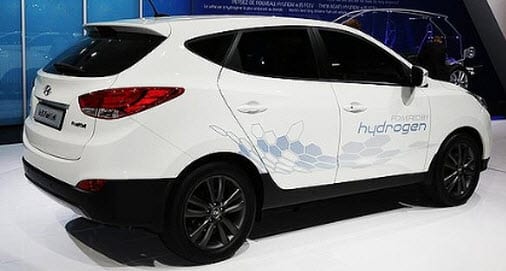 Hyundai continues making waves in the world of hydrogen fuel
February 22, 2013

Hydrogen fuel gaining ground with the help of Hyundai
The auto industry has been toying with the concept of hydrogen-powered vehicles since the 1960's. Efforts to develop such vehicles have been very limited in the past, largely due to the costs associated with hydrogen fuel cells and the lack of a comprehensive hydrogen fuel infrastructure. Now, however, hydrogen fuel seems to be a major focus for automakers, with Hyundai leading the charge in bringing hydrogen-powered vehicles to the market. The South Korean automaker has been making waves in the world of transportation with its hydrogen-powered Tucson ix35.
Hyundai aims to revolutionize transportation
Last year, Hyundai began pushing hydrogen fuel aggressively and has recently won significant acclaim for its efforts. The company heralded hydrogen fuel as the future of transportation and began showing off the capabilities of its new ix35. The vehicle was made available primarily to governments in Europe and Asia, with Hyundai looking to impress government officials with the performance and efficiency of its hydrogen-powered vehicle. Those that have driven the ix35 have made note of the vehicle's efficiency, thus generating more support for the development of a hydrogen fuel infrastructure wherever the vehicle has seen use.
New vehicles expected to be commercialized by end of 2013
Hyundai has plans to begin commercializing its ix35 by the end of 2013, well ahead of other automakers who plan to release their own hydrogen-powered vehicles between 2015 and 2017. Hyundai has already begun leasing its new vehicle to large city fleets and expects to begin mass producing the ix35 by the end of 2013. Those that have experienced the ix35 claim that there is little difference between the hydrogen-powered vehicle and those that run on petroleum, as the vehicle boasts of powerful performance that rivals traditional drivetrains.
Hyundai begins lowering price of hydrogen-powered vehicles
Of note, Hyundai has begun lowering the price of the ix35 in recent months. Cost has been one of the major issues that has kept hydrogen fuel from seeing widespread adoption, largely due to how expensive it is to manufacture fuel cells. Hyundai has announced that its standard ix35 will retail for approximately $19,395. The gasoline version of the vehicle costs approximately $26,400 and does not boast of the efficiency of its hydrogen-powered counterpart.