Hyundai delivers 50 more of its hydrogen fuel cell vehicles to Europe
November 5, 2015
Automaker brings more of its ix35 fuel cell vehicles to European countries
South Korean automaker Hyundai has delivered more of its hydrogen fuel cell vehicle, the ix35, to Europe, where the vehicles will be used to demonstrate the capabilities of fuel cells in the transportation space. Hyundai has delivered the largest shipment of these vehicles to date, bringing 50 to Europe in October. These vehicles are being delivered to several European countries, where some will be used by government agencies to determine the potential of fuel cell vehicles.
Hyundai has already delivered 250 fuel cell vehicles to Europe
To date, Hyundai has delivered more than 250 fuel cell vehicles to Europe, providing these vehicles to 13 countries throughout the region. Hyundai has also been investing in the development of a hydrogen fuel infrastructure, which is needed to ensure that fuel cell vehicles find success among consumers. Europe, as a whole, has seen its hydrogen infrastructure grow by a significant margin over the past few years. This growth has been aided by several organizations, including those within the auto industry.
South Korean automaker has established a lead in the European clean transportation market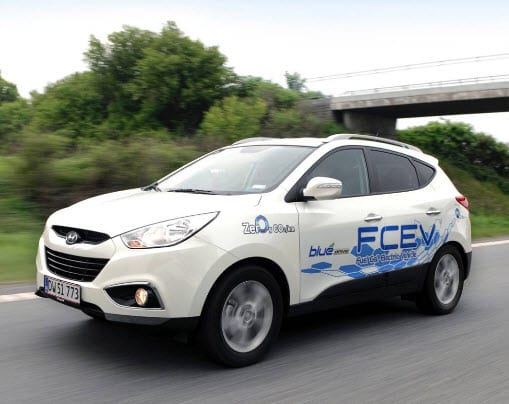 The ix35 was the first mass-produced fuel cell vehicle to be offered for sale in Europe. Altogether, the ix35 has traveled some 1.2 million kilometers since it reached the market. By the end of this year, the vehicle will be readily available for purchase and lease in 13 European countries, including Spain and Switzerland, which have just received shipments of the ix35. With Hyundai delivering more vehicles to Europe, the automaker has established itself as a leader in the clean transportation market.
Cost of fuel cell vehicles remains a barrier to their adoption
Fuel cell vehicles are becoming more attractive to consumers, but their cost has also lowered their adoption. While several governments offer subsidies that help make fuel cell vehicles more affordable, the lack of an expansive hydrogen fuel infrastructure reduces the overall value of fuel cell vehicles. The problem being that fuel cell energy systems are quite expensive, due to their use of costly and rare materials.