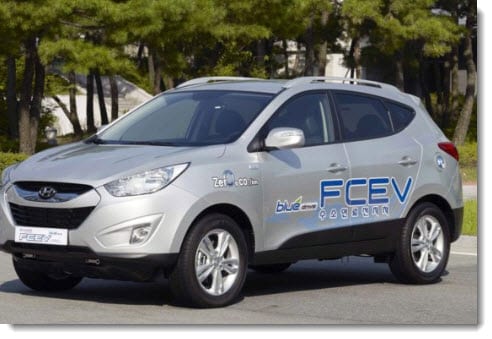 Hyundai joins hydrogen fuel initiative in the UK
April 29, 2013

Hyundai to take experience with hydrogen fuel to the UK
Acclaimed South Korean automaker Hyundai has made major waves in the auto industry by being the first to successfully begin mass production on a hydrogen-powered vehicle. The automaker has become a very strong supporter of hydrogen fuel and its uses in transportation, as has much of the rest of the auto industry. Hydrogen fuel is considered one of the best options the industry has to comply with stringent emissions regulations that are being introduced by the governments of prominent markets.
London Hydrogen Partnership invests $50 million in new projects
In its continuous effort to promote hydrogen fuel, Hyundai has announced that it has joined the London Hydrogen Partnership in the United Kingdom. The London Hydrogen Partnership is an initiative designed to promote hydrogen fuel and fuel cell energy systems in London, as its name suggests. The initiative has been somewhat successful in this endeavor, having aided in the deployment of the city's first hydrogen-powered taxis and helping bolster infrastructure by supporting the establishment of new hydrogen fuel stations. The London Hydrogen Partnership recently invested more than $50 million in new hydrogen projects throughout the city. Hyundai is expected to play a significant role in the success of these projects.
Hyundai expertise expected to come in handy
Hyundai has a great deal of experience when it comes to hydrogen fuel cells. Much of this experience is within the world of transportation and Hyundai has demonstrated how hydrogen fuel can be used for vehicles extensively over the past two years. The automaker's experience is expected to help the various projects supported by the London Hydrogen Partnership to take form. These projects involved expanding the city's hydrogen fuel infrastructure and promoting the benefits of fuel cells in a new generation of vehicles.
UK shows support for hydrogen fuel
The United Kingdom is presently a modest supporter of hydrogen fuel. The government has launched two large projects concerning this form of renewable energy and how it can be used in transportation. London currently boasts of the most comprehensive hydrogen fuel infrastructure in the country. As one of the United Kingdom's largest metropolitan cities, London is considered a viable locations for hydrogen transportation to take form and find traction among consumers.