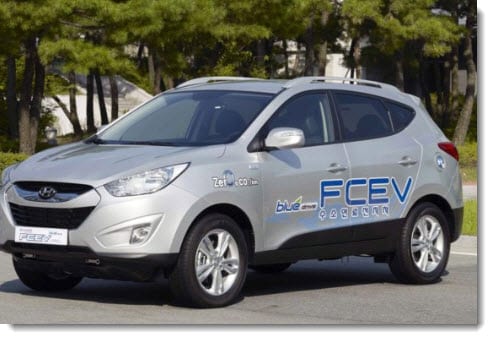 Hyundai chosen to demonstrate capabilities of hydrogen fuel
March 21, 2013

Hydrogen fuel to be championed by Hyundai
Hyundai has been turning a lot of heads in the worlds of renewable energy and transportation recently. The South Korean automaker successfully became the first in its industry to begin mass production of a hydrogen-powered vehicles, the Tucson ix35. While the vehicle is currently limited to a small number of markets, Hyundai has plans to expand the availability of the Tucson ix35 in the near future. The automaker has long been promoting the capabilities of hydrogen fuel in transportation and has, for the second consecutive year, been selected to represent hydrogen transportation in Europe.
Automaker will promote hydrogen transportation in Europe
The Fuel Cells and Hydrogen Joint Undertaking, a European Commission-backed organization focused on promoting hydrogen fuel, has selected Hyundai to show off the viability of fuel cell technology in transportation. The Tucson ix35 will handle the majority of the automaker's demonstration efforts. The endeavor is meant to show European countries that fuel cells are not a distant solution to an immediate problem, rather that they are an adequate way to make transportation of all kinds more environmentally friendly.
Second consecutive year Hyundai is chosen to represent hydrogen
Last year, Hyundai was chosen to represent the Fuel Cells and Hydrogen Joint Undertaking for the first time. Throughout much of 2012, Hyundai made the Tucson ix35 available to European governments, which used the vehicle for various transportation purposes. The demonstration helped attract a great deal of support to hydrogen fuel and its use in transportation, and also generated a great deal of hype around the Tucson ix35. This year, Hyundai will continue showing off the possibilities of hydrogen fuel and how it can help solve many of the problems that exist in the auto industry today.
Hyundai becomes a leader in its industry
Hyundai has become a leading force in its industry because of its use of hydrogen fuel. The automaker has defied expectations concerning hydrogen transportation by managing to begin mass production of a hydrogen-powered vehicle nearly a year ahead of schedule. The Tucson ix35 is the first of its kind to reach mass production, and Hyundai is eager to show that hydrogen fuel is not as foolish a notion in transportation as some would suggest.