Hyundai works with US government to promote hydrogen fuel vehicles
September 18, 2014
Hyundai teams with the Hydrogen and Fuel Cell Caucus and the Department of Energy
South Korean automaker Hyundai has begun collaborating with the Congressional Hydrogen and Fuel Cell Caucus and the Department of Energy. Through this  collaboration, the automaker will introduce the first mass-produced fuel cell vehicles in the U.S. The federal government has been promoting fuel cell vehicles and hydrogen fuel for some time. Support for these vehicles has been modest in the past, but it has increased in recent years due to the number of automakers that are embracing fuel cells.
Automaker becomes the first to mass produce a fuel cell vehicle for the retail market
Hyundai is not the first company to develop a hydrogen-powered vehicle, but it has become the first to begin mass producing such a vehicle. The automaker has been building hype around this vehicle for years now, showcasing its abilities in Europe and elsewhere. In the U.S., fuel cell vehicles are somewhat unpopular because of their expensive nature and the lack of a comprehensive hydrogen fuel infrastructure.
Caucus seeks to accelerate the deployment of fuel cell technology and promote hydrogen fuel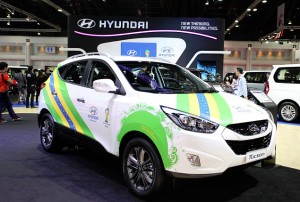 The Hydrogen and Fuel Cell Caucus has been working to accelerate the deployment of fuel cell technology throughout the country. The caucus has been behind some of the government's latest infrastructure projects, highlighting the potential benefits of hydrogen fuel and how it can be used in transportation. The caucus has also been supporting the concept of using hydrogen fuel cells as domestic energy systems. Fuel cells have been used for such a purpose in Japan, but there has been relatively little interest in using fuel cells in this way in the U.S.
Fuel cell vehicles may struggle to compete with their more conventional counterparts
Fuel cell vehicles will have to compete with conventional electric vehicles in order to find success in the U.S. The clean transportation market is being heavily affected by Tesla Motors, which has produced some of the most aggressively accepted electric vehicles in the market. Moreover, without the support of a working fuel infrastructure, fuel cells will not likely find the traction they need among U.S. consumers.