Lexus to showcase new hydrogen fuel cell vehicle at upcoming event
October 13, 2015
Lexus will show off a new concept car at the Tokyo Motor Show
Automaker Lexus, a division of Toyota, has plans to showcase its new concept cat at the Tokyo Motor Show. Lexus suggests that the new vehicle will be a vision of the future, noting that it will be a new step in "progressive luxury." While the automaker has yet to reveal details concerning the vehicle itself, rumors suggest that Lexus will be showing off a new car equipped with a hydrogen fuel cell.
Automaker is behind some of the technology that powers the Mirai
Lexus has been testing hydrogen fuel cell technology for its parent company, Toyota, for some time. The Mirai, Toyota's new fuel cell vehicle, is making use of technology that Lexus has helped test. This vehicle is completely electric, using its fuel cell to generate electrical power. Fuel cells generate energy through the consumption of hydrogen, with the only byproduct being water vapor and oxygen. This makes fuel cell vehicles environmentally friendly and a good alternative to conventional vehicles. Many of the world's leading automakers, including Honda, Hyundai, and Daimler, are planning to launch fuel cell vehicles in the coming years.
Toyota continues to promote hydrogen fuel cells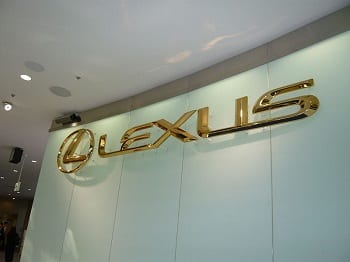 Toyota is also planning to show off new vehicles at the Tokyo Motor Show, with a significant focus expected to be placed on the Mirai. The automaker's new fuel cell vehicle was recently launched in Japan, with a launch in the United States slated for this year. The Mirai has proved to be somewhat expensive, considering its use of a hydrogen fuel cells, but government subsidies have helped reduce the cost of the vehicle, making it more accessible to a wider range of consumers.
Lexus may show off fuel cell versions of its most popular models
Rumors suggest that Lexus will be showcasing a fuel cell version of its LS model, which may be launched in 2018. The automaker will also be showing off its new GS F model, a high-performance version of its traditional GS series which was recently showcased at a motor show in Detroit, Michigan. Lexus may help promote the further use of fuel cell technology within the auto industry by showing off the capabilities of fuel cell vehicles and the technology behind them.