Linde to supply hydrogen fuel for the Shell Eco-marathon
March 2, 2015
Linde will be the exclusive supplier of hydrogen for the Shell event
Shell is hosting its fifth annual Eco-marathon, where teams of students from various universities demonstrate the potential of hydrogen fuel cells in the transportation sector. Shell expects that 54 teams will compete in the event this year, showcasing their fuel cells and how these energy systems can be used in vehicles. Linde, a leading producer of chemical gases, will be the exclusive provider of hydrogen fuel for this year's event.
Company continues to play a major role in the expansion of hydrogen fuel
Linde has played a major role in promoting the use of hydrogen fuel over the past few years. The company has helped develop new fueling technology and has bolstered the hydrogen infrastructures of the United States, Europe, and Asia. The company has shown particular support for clean transportation, highlighting the benefits of hydrogen over more conventional forms of fuel. In the coming years, hydrogen fuel is expected to become quite prominent in the clean transportation space.
Hydrogen cylinders to be provided to students competing in the Eco-marathon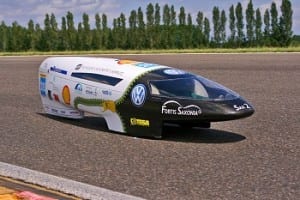 Linde will be providing ready-to-install hydrogen fuel cylinders to teams competing in the Eco-marathon this year. These cylinders can provide the hydrogen that fuel cells need to generate electrical power. They serve as convenient hydrogen supplies, reducing the need for fuel cell vehicles to spend time filling dedicated fuel tanks. The cylinders will also provide students with a chance to gain experience with new technology and understand how fuel cells can make use of hydrogen in different ways.
Event could provide students with valuable experience concerning fuel cells and clean technology in general
Shell's Eco-marathon represents a promising educational opportunity. Hydrogen fuel cells are gaining more popularity throughout the world and may soon become a primary source of power for the auto industry and residential sectors. Students gaining experience with these energy systems could equip them with the skills they need to find jobs in the fuel cell industry. The Eco-marathon is also meant to draw attention to the potential capabilities of hydrogen fuel cells in the transportation space.