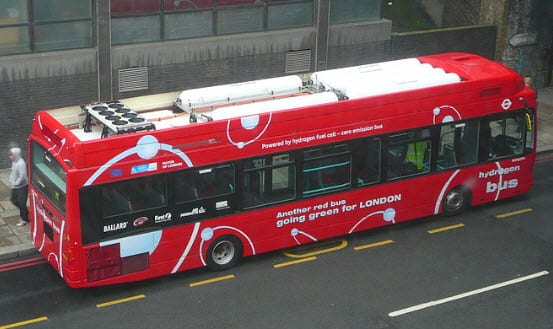 London's hydrogen powered buses grounded for Olympic Games
July 26, 2012
Hydrogen-powered buses grounded for the duration of Olympic Games
The UK government has chosen to make use of hydrogen powered taxis to ferry special guests around during the Olympic Games this year. The country's hydrogen powered buses, however, will sit on the sidelines throughout the duration of the major sporting event. The move comes after Air Products, a producer of industrial gases and provider of the hydrogen fuel used by the UK's buses, announced that it had successfully completed 1,000 refuelings of five hydrogen powered buses operating in London.
Troubles in maintenance could make it difficult to keep buses operating during the event
The buses are operated by Transport for London, the city's transportation authority. Each bus is equipped with a hydrogen fuel cell and a fuel tank that can keep the vehicle running for up to 18 hours. While the buses have been well received by city officials and its residents, there have been problems in maintaining the vehicles. Scarcity of materials and the availability of engineering staff have put stress on Transport for London. These factors have contributed to the authority's decision to ground the hydrogen-powered buses.
Stipulation bars the delivery of hydrogen fuel
These factors are not the only reason the buses will not be active during the Olympic Games. A stipulation in the planning permission for the hydrogen fuel stations in London dictates that the buses cannot operate during the event. The stations that are included in this stipulation are barred from delivering hydrogen for the duration of the Olympic Games. As such, the hydrogen-powered buses will not be able to operate for some time.
Hydrogen-powered taxis to continue service for government guests
London's hydrogen-powered taxis will still be in service as they are meant specifically for the transportation of guests of the government and other high-profile personnel. These vehicles are to be fueled through private fueling stations as well as those that are open to the public, but not covered by the stipulations in the planning permission for the hydrogen-powered buses.
Related article(s) and resources:
http://www.busandcoach.com/newspage.aspx?id=6945&categoryid=0