New offshore wind energy project to take root off the coast of Rhode Island
February 18, 2014
Rhode Island to be home to one of the largest wind projects in the world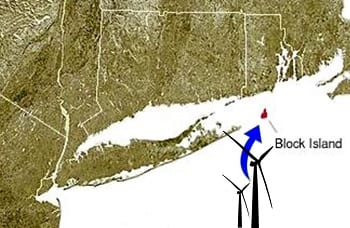 Offshore wind power in the U.S. has had something of a turbulent past. Critics of offshore wind power suggest that tapping into the energy potential of winds found at sea is expensive and impractical. Supporters of offshore wind argue that sea winds may be strong enough to account for a significant portion of the country's energy demand. Most of the attention that surrounds offshore wind is focused on the Cape Wind project, which has generated a certain degree of notoriety. There is another project, however, that may soon be the largest of its kind in the U.S., if not the world.
Wind farm to produce 1,000MW of electricity
The Block Island Wind Farm is set to take shape off the coat of Rhode Island. The wind farm will have an initial capacity of just 30 megawatts, but will have a total capacity of over 1,000 megawatts as it is further developed. The energy produced by the wind farm will be connected to an existing energy grid designed specifically for wind power. By comparison, the Cape Wind project is expected to have a total capacity of 468 megawatts once it is fully completed at some point in the future.
Project could generate over $100 million in economic activity
The Block Island Wind Farm will feature the largest wind turbines that have ever been installed at an offshore wind site. Deepwater Wind is responsible for development of the project and suggests that it will be the first offshore wind energy system to become operational in the U.S. The project is expected to boost the local economy as Deepwater Wind has plans to hire personnel from Rhode Island and neighboring states. Deepwater Wind expects to generate more than $100 million in economic activity in Rhode Island through its new wind energy project.
Wind power faces uncertain future
Wind power in the U.S. currently faces an uncertain future. Many of the wind projects that had been taking form in the country were supported through the federal Production Tax Credit, which expired at the beginning of this year. This incentive provided financial support for wind projects while also creating a sense of stability for investors interested in wind power. With its expiration, wind energy may face a turbulent future.