Offshore wind energy project gets the funding it needs in the US
March 10, 2015
New project has reached its funding goal and will take root off the coast of Rhode Island
The offshore wind energy sector in the United States has fallen on difficult times recently. The country's Production Tax Credit, which had offered finical support to wind power projects, was allowed to expire, which placed many project in jeopardy. Offshore projects are notoriously expensive and only a very few of them manage to receive the financial aid they need to take form. Deepwater Wind has announced that its now project, the Block Island Wind Farm, has received the funding it needs.
New wind farm cost $300 million to develop
The new wind farm will be developed off the coast of Rhode Island and is expected to begin producing electrical power by the end of 2016. Once completed, it will be the first operation offshore wind energy system in the United States. The project itself will cost nearly $300 million to develop and the funding that will be supporting the project is coming from the Mandated Lead Arrangers Societe Generale of France and the KeyBank National Association of Ohio.
Offshore wind energy system will produce 30 MW of electrical power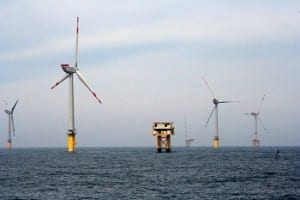 The Block Island Wind Farm is expected to produce as much as 30 megawatts of electrical power once it is completed. Backed by the funding that the project has received, Deepwater Wind will be able to accelerate its development plans. The project had first been announced in February last year, but had struggled to obtain the support it needed until very recently. The project represents the first step toward Deepwater Wind's plans to bring more than 1,000 megawatts of wind energy to the United States.
Private investors have grown cautious of the wind energy space
Previous offshore wind energy systems have failed to find support in the country. This is partly due to the expiration of the Production Tax Credit. The federal initiative had created some security for investors, which allowed them to participate in the wind energy sector with relatively little risk. Without the Production Tax Credit, private investors have become more careful with the money they funnel into wind energy projects.