Pakistan's parliament is the world's first to run entirely on solar power
February 19, 2016
The completion of a solar plant has made the country's seat of government in Islamabad 100% solar-powered.
The 80 MW (megawatt) solar power project for the Majlis-e-Shoora, the seat of the government in Pakistan's capital, Islamabad, is now complete and fully provides the national assembly with all its power, making it the first parliament in the world to run on 100% solar energy. The venture, which cost approximately £36.5 million ($52.5 million), has been funded by the Chinese government as an act of friendship, and was officially announced during Chinese president Xi Jinping's visit to the country in 2015.
Some of the renewable energy produced by the sun is fed into the national grid.
The completed project features as many as 3,940 photovoltaic (PV) panels installed on the rooftop and parking area of the building. According to Dawn, a Pakistani newspaper, it generates 80 MW of electricity. While 62 MW are used by the national assembly, the remaining power goes to the national grid. This was made possible by the National Electric Power Regulatory Authority, which issued the first Net Metering license in Pakistan to the National Assembly.
Munawar Abbas Shah, special secretary at the National Assembly, said that "This is the first project of its kind in a public building in Pakistan, and later more public buildings will be converted to solar power to overcome the energy crisis."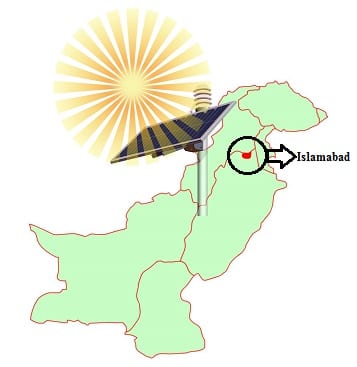 It is estimated that the solar power project will save the parliament house $1 million a year in bills.
Although the PV project was turned on last week, and members of the house met for the first time last Friday since the plant was connected to solar energy, the program will not be formally inaugurated by Pakistan's Prime Minister Nawaz Sharif until later this month.
It was important for the project to be finished prior to summer. The reason is during the hottest months of the year, the parliament can consume more energy. According to Munawar Abbas Shah, "The consumption of electricity in the parliament even jumps over two megawatts in summers when the house is in session."
It is anticipated that the switch to solar power will save the parliament house in Pakistan about £689,369 ($1million) in energy bills, annually.