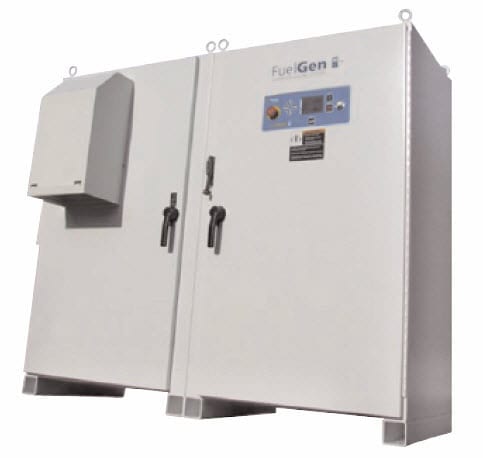 Proton OnSite PEM electrolyser reaches major milestone in hydrogen gas production
June 4, 2012

PEM electrolyser can produce hydrogen gas for vehicles without the use of a compressor
Proton OnSite, a leading producer of on-site hydrogen gas generation systems, has announced that its latest proton exchange membrane (PEM) electrolyser project has reached a major milestone. The project is sponsored by the Department of Energy and is part of the agency's ongoing investigation into the viability of hydrogen fuel. Proton OnSite has developed a new PEM electrolyser that can generate hydrogen gas at pressures that make it usable for vehicles without the need for a compressor.
Compressors linked to high cost of hydrogen fuel
Many vehicles that are equipped with hydrogen fuel cells require hydrogen gas to be pressurized at 5,000psi. Conventional hydrogen gas generators produce the gas at higher pressures than what is required, making the use of a compressor necessary to reach the desired pressure for hydrogen-powered vehicles. Compressors are often expensive components, contributing to the overall cost of hydrogen fuel, making it an unattractive alternative to fossil-fuels or other forms of renewable energy.
Electrolyser could be a boon for the establishment of an affordable hydrogen fuel infrastructure
Proton OnSite's PEM electrolyser is capable of producing hydrogen gas at 5,000psi without the use of a compressor. The company believes that this milestone will establish a firm foundation upon which an affordable hydrogen fuel infrastructure can be created. The Department of Energy notes that the development of the electrolyser signals a major step forward for hydrogen fuel and clean technology. With this milestone, PEM electrolysers may soon become the most popular technology for large-scale hydrogen gas production.
Infrastructure key to the success of hydrogen transportation
The technology's implications for a hydrogen fuel infrastructure are quite important. The auto industry has been working to develop new vehicles that are powered by hydrogen gas. The viability of these vehicles has been questioned repeatedly, but automakers have been adamant in the belief that hydrogen fuel is the future of transportation. Without an infrastructure, however, the reign of hydrogen-powered vehicles will be short lived. Proton OnSite believes that affordable hydrogen production is the first step to establishing a comprehensive fuel infrastructure and hopes that its electrolyser will play a role in this endeavor.