Recycling technology could make paper cups more recyclable
September 24, 2014
A new coating developed by a company based in the Netherlands makes paper cups recyclable.
AkzoNobel, a company that produces specialty paints, coatings and chemicals in the Netherlands, has created a recycling technology that makes paper cups not only recyclable but compostable.
The coating technology is made from oils that are plant based.
Called the EvCote Water Barrier 3000, the coating is comprised of recycled polyethylene terephthalate (PET) bottles and plant-based oils. According to AkzoNobel's executive committee member who is responsible for performance coatings, Conrad Keijzer, "This is an industry-changing innovation, which could have a significant impact in terms of providing economic and environmental benefits along the value chain. The new coatings technology will help restaurant owners and cup producers to reduce their waste."
The company's managing director of industrial coatings, AB Ghosh, added that companies have already shown a strong interest in its product and AkzoNobel anticipates that its product will lead to a significant transformation in paper cup production, similar to the transfer from wax cups to the present polyethylene process that took place about 40 years ago.
The recycling technology crated by AkzoNoble has both cost and environmental benefits.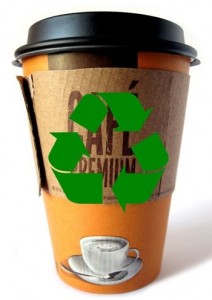 It is estimated by the company that 200 billion paper cups are used worldwide each year. However, the fact remains that recycling this material is almost impossible without incurring high costs or without dramatically reducing the paper quality.
This is where EvCote makes a difference. When paper that is covered with this coating is recycled, the paper fiber quality stays intact. This allows the paper to be reused when producing other paper products. Furthermore, the company claims that, in some cases, because the fibers are made stronger by the coating, paper produced from materials can achieve higher strength than the initial undercoated paper.
Additionally, another advantage of the coating noted by AkzoNobel is it allows paper mills to recapture 100% of the paper scrap that is presently sent to landfills, from the production process, which results in notable financial savings.
The EvCote recycling technology is comprised of 95% renewable or sustainable content and also protects paper surfaces from moisture, water and grease. AkzoNoble claims that the coating can be used in many applications, some of which include folding carton board, food serving packaging, beverage carrier board, and old corrugated containers (OCC).