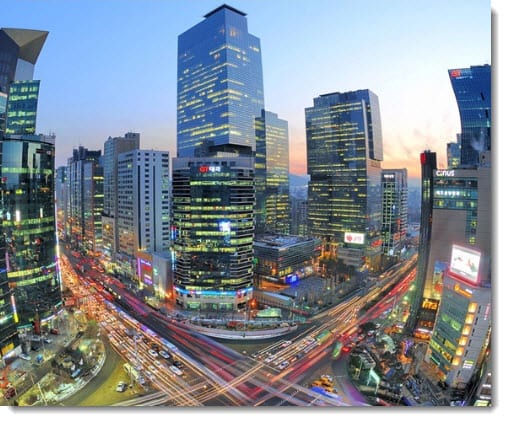 South Korea's capital to be powered by hydrogen fuel cells
May 18, 2012
Seoul to invest in hydrogen fuel
Hydrogen fuel cells are becoming rampantly popular in South Korea. The nation has recently taken an aggressive stance of alternative energy, hoping to utilize it more as a replacement for fossil-fuels. Economics play a role in this endeavor, as the nation is looking to separate itself from foreign sources of fuel, such as oil. Like other countries, South Korea believes that breaking away from foreign sources of fuel will help reduce the amount the country pays for importing fuel. Adopting alternative energy, such as hydrogen fuel, is expected to translate into savings on energy costs as well.
City government plans to build 29 hydrogen power plants by 2014
The Seoul Metropolitan Government has announced that it will be building no less than 29 hydrogen fuel cell power plants, which will be active by 2014. These power plants will be equipped with high-performance hydrogen fuel cells, which are expected to generate electricity at a fraction of the cost of traditional energy systems. Fuel cells are, indeed, powerful energy systems, but have been criticized because of problems concerning efficiency and cost. The Seoul government has taken note of these problems and will be taking steps to reach out to companies that it believes have mitigated these issues.
Power plants will help protect the city from blackouts
These power plants will provide the city with an uninterrupted source of electricity and will also serve as a backup power source in the event of an emergency. When the power plants are activated in 2014, they will generate enough electricity to fully power 400,000 homes in Seoul. The fuel cells will eventually be tweaked to generate more electricity, providing more power for the city. The government expects that, one day, the fuel cells will provide the majority of the city's electricity without any trouble.
Government reaches out to hydrogen fuel cell manufacturers to participate in the plan
The Seoul government is currently seeking private investments to support the initiative. The government is also reaching out to companies that have produced innovative and highly efficient hydrogen fuel cells. These companies have not yet been revealed, but the government will be providing more information on the initiative in the coming months.