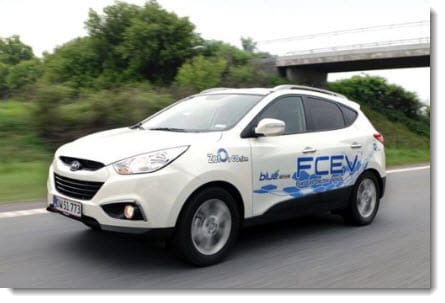 Hyundai teams with Norway's Hydrogen Operation to support pilot project in Oslo
May 19, 2012
Hyundai's hydrogen-powered SUV getting a lot of attention
South Korean automaker Hyundai continues to make waves in the world of hydrogen fuel as the company announces an agreement with Norway's Hydrogen Operation (HYOP). Hyundai has recently been ramping up efforts to promote its hydrogen-powered vehicles. The automaker's Tucson ix35 SUV has been gaining a great deal of attention because it is one of the few hydrogen-powered SUV being developed. As part of its effort to promote hydrogen fuel cells, Hyundai has been looking to partner with parties in other countries to bring the Tucson ix35 to more markets around the world.
Tucson ix35 successfully completes trek from Oslo to Monte Carlo
According to the agreement between Hyundai and HYOP, the automaker will be supplying its hydrogen-powered vehicles to a pilot project that has taken root in Oslo, Norway. Oslo recently made headlines in the world of alternative energy news when the city served as the starting point in a hydrogen-fueled trek from initiated by the Zero Emission Resource Organization. The organization took two of Hyundai's Tucson ix35's and drove them from Oslo to Monte Carlo, Monaco, only stopping for fuel five times.
Pilot project seeks to bring hydrogen-powered vehicles to Oslo's companies
Oslo's pilot project aims to encourage the city's private agencies, companies and transportation services to utilize hydrogen-powered vehicles. HYOP petitioned Hyundai after the company's hydrogen-powered SUV's were met with praise after their successful journey from Oslo to Monet Carlo. HYOP believes that hydrogen fuel cells will find a strong market in these sectors because of their ability to produce large amounts of energy and their efficiency overall.
Duo to work to embolden the hydrogen fuel infrastructure of Norway and Europe
Hyundai and HYOP will also collaborate on the construction of a hydrogen fueling station in Oslo. The duo has plans to extend this collaboration throughout much of Norway, working to embolden the country's hydrogen fuel infrastructure. This infrastructure will augment the existing hydrogen fuel infrastructure currently in place throughout greater Europe.