Three new solar energy plants are coming to Utah
April 13, 2015
SunEdison is moving forward with solar projects in Utah that will total to 262 MW.
SunEdison, the global leader in solar electricity power systems, recently announced that it has signed agreements to build and install three utility-scale solar energy plants in Iron County, located in southern Utah, and these new plants will have a combined total capacity of 262 megawatts (MW).
The electricity produced by the solar power plants will be purchased by PacifiCorp.
PacifiCorp, an electric utility, which serves 1.8 million industrial, commercial, and residential customers, will purchase the electricity from these three solar plants via three 20-year power purchase agreements, which it is required to do under the federal Public Utilities Regulatory Policies Act. The Utah Public Service Commission still needs to approve the purchase agreements contract to guarantee fair cost for the utility's customers.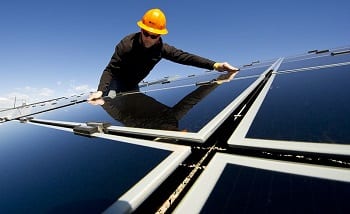 Rocky Mountain Power, a division of PacifiCorp, will be purchasing the electricity that is produced by another SunEdison project in Utah known as the Seven Sisters project. The 22.6 MW Seven Sisters project includes seven separate solar power plants (four located in Beaver County and three in Iron County), and Rocky Mountain power will purchase the electricity generated by these plants under seven separate 20-power purchase agreements.
SunEdison has over 720 MW of solar energy in development in Utah.
In addition to the 22.6 MW Seven Sisters project and the recently announced three solar plants (100 MW Granite Mountain Solar East plant, 63 MW Granite Mountain Solar West plant, and the 99 MW DC Iron Springs Solar plant), SunEdison also has other solar energy projects in Utah, including the 420 MW Four Brothers and 22 MW of additional projects.
Paul Gaynor, the Executive Vice President North America Utility and Global Wind at SunEdison, commented on the latest projects saying that "These solar power plants will create jobs and provide valuable tax revenue to the people of Utah – they are a testament to the contribution solar can make to our energy future." Gaynor added that "we look forward to continued development in the state."
The plan is to start building the three solar energy plants in the fall of 2015. Commercial operations are anticipated to begin in 2016.