UPS to add more alternative fuel vehicles to its fleet
April 13, 2015
UPS has plans to increase its fleet of alternative energy vehicles by almost 30 percent.
UPS, one of the largest shipment and logistics companies in the world, has revealed its plans to add an extra 1,400 new compressed natural gas (CNG) vehicles to its alternative fuel fleet, which would boost the fleet by nearly 30 percent, and these vehicles would be deployed over the next year.
CNG fueling stations will also be built to support these new vehicles.
In total, 15 CNG refueling stations will be constructed in North America. According to UPS, 12 of the CNG stations will be located in areas were no CNG infrastructure existed previously, while the other three stations will replace existing CNG facilities, upgrading them with higher capacity and "more robust" equipment.
Mitch Nichols, the senior vice president of transportation and engineering at UPS, said that the company's investment in "a large scale alternative energy fleet has enabled the company to avoid more than 34 million gallons of conventional fuels since 2000." Nichols added that the CNG announcement "demonstrates UPS's plans to expand use of widely available natural gas. CNG is an important building block in our long-term fleet strategy and offers environmental and economic advantages."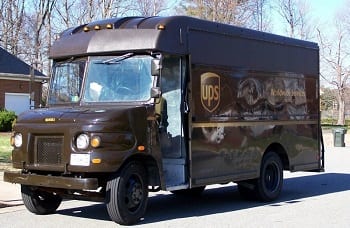 UPS estimates its alternative fuel fleet will log over 350 million miles per year.
When all of the CNG vehicles have been deployed, the Atlanta-based package delivery giant estimates that its advanced technology and alternative fuel fleet will keep on logging over 350 million miles annually. This would support UPS's goal, which is to drive one billion miles in this fleet before the end of 2017. This would not only lower total vehicle emissions, but would displace an estimated 54 million gallons of conventional gasoline and diesel every year.
Compressed natural gas is natural gas that is non-corrosive, odorless, and stays clear. It is a renewable resource and is a clean-burning alternative fuel. According to the U.S. Department of Energy, using natural gas in place of gasoline reduces greenhouse gas emissions by 6-11 percent over the fuel life cycle.
The CNG vehicle purchase and fueling stations are part of UPS's continual commitment to broaden its fuel sources, increase its experience of using alternative fuels in applications involving freight transportation, and lower its carbon footprint.