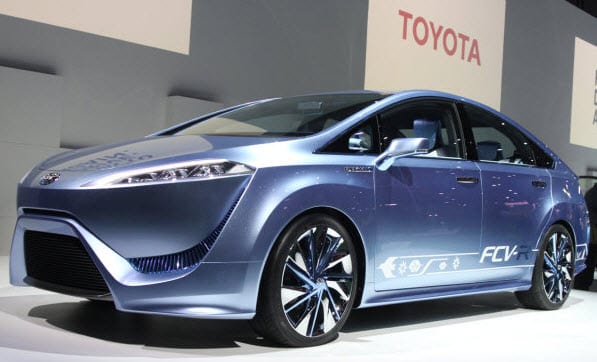 Toyota reveals high hopes for hydrogen fuel
July 2, 2013
Hydrogen fuel continues to gain attention in the auto industry
Hydrogen fuel cells had once been considered little more than a novelty, but have recently become a top priority for the global auto industry. These energy systems are to be the engines of a new generation of vehicles that are produced by most of the world's leading automakers. Eventually, hydrogen fuel cells may even completely replace conventional engines, depending on how well they perform in the market. Japanese automaker Toyota is one among several that have shown strong interest in hydrogen fuel and its uses in transportation.
Toyota aims high with hydrogen-powered vehicles
Toyota has high hopes for hydrogen fuel, but its efforts to produce a hydrogen-powered vehicle have been somewhat reserved when compared to that of other companies. The company has shown some caution when it comes to the issue of hydrogen fuel cells due to the criticism that these energy systems receive, much of which involves their cost and efficiency. Despite some concerns, Toyota has made significant progress in developing its own hydrogen-powered vehicle, which it expects will be launched at some point in 2015.
Greatest hurdle for Toyota is the market itself
There are several challenges that face hydrogen transportation, one of the most prominent of which is the lack of a hydrogen fuel infrastructure. While Toyota has shown some concern for these challenges, the automaker has joined others throughout the auto industry to address these issues. For Toyota, the success of hydrogen transportation will not be entirely encompassed in the capabilities of infrastructure, but rather how well these vehicles perform in the global market.
Toyota hopes hydrogen-powered vehicles will find Prius-level success
In order for its hydrogen-powered vehicles to be considered successful, Toyota wants to see the same level of success with these vehicles that it had seen with the launch of its Prius in the 90's. The Prius remains one of the most popular hybrid vehicles on the market today and helped establish Toyota as a powerful name in clean transportation. If hydrogen-powered vehicles find the same level of success, Toyota could herald in the dawn of the age of hydrogen transportation.