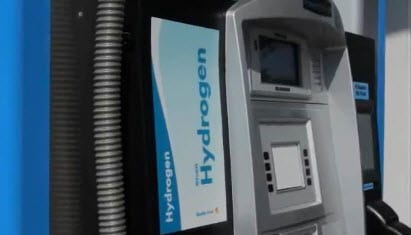 Turkey inaugurates first hydrogen fuel station
December 7, 2012

First hydrogen fuel station in Turkey finds home in Istanbul
Turkey has inaugurated its very first hydrogen fueling station. The station is located in Istanbul and has already been used to refuel a Hyundai ix35 and a hydrogen-powered boat deasigned by students from the Yldiz Teknik Universitesi. The station itself is located at Golden Horn, a historic inlet of the Bosphorus strait. The new hydrogen fuel stations is expected to help boost the country's hydrogen fuel infrastructure and help serve the needs of consumers that will be driving hydrogen-powered vehicles in the near future.
Hydrogen fuel continues to become more important for transportation
Hydrogen fuel is becoming increasingly important in the world of transportation. Automakers have put strong focus on the use of hydrogen fuel cells for new vehicles and this focus is beginning to be mimicked in the maritime industry. For the most part, fuel cells are considered a viable way for companies to meet the emissions standards that are being adopted by the world's governments. In order for the investment in fuel cells to be justified, however, there needs to exist a comprehensive hydrogen fuel infrastructure that is capable of supporting a wide range of vehicles that rely on hydrogen.
Station's technology provided by Hydrogenics
Turkey's hydrogen fuel station makes use of hydrogen fuel cells and hydrogen generation technologies developed by Hydrogenics. This technology is capable of producing hydrogen fuel on-site, allowing the station to have a constant supply of the gas instead of having to rely on regular shipments. The station itself has a storage capacity of 100 kilograms, more than the 65 kilograms that Hydrogenics' technology can produce on a daily basis.
Hydrogen fuel station may see limited use for the time being
The availability of hydrogen-powered vehicles in Turkey is very limited currently, so the hydrogen fuel station is not expected to see excessive use until more vehicles enter the market. The station will supply hydrogen fuel to a wide variety of projects, however, as well as to industrial companies that often use hydrogen to power equipment.