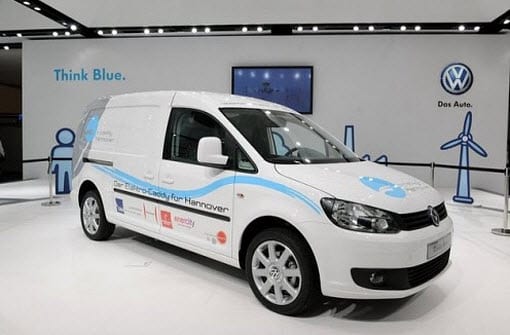 Volkswagen to test battery power for new electric Caddy
January 9, 2012
German automaker Volkswagen has begun testing an electric version of their popular VW Caddy vehicle.
The car is powered by a powerful lithium-ion battery, which will propel the vehicle around the city of Hannover. While most other automakers are opting to utilize hydrogen for their electric vehicles, Volkswagen has decided to use batteries as a way to test the feasibility of electric mobility. If the test is successful, the automaker may begin developing alternative energy vehicles en masse.
Volkswagen's electric Caddy can travel more than 75mph and can haul loads of over 1,200 pounds. The automaker claims that the vehicle can travel some 68 miles without having to recharge, which is no small feat for an electric vehicle that has 140 cubic feet of storage space. There are currently no plans to commercialize this vehicle, however, and it will be used by Volkswagen officials to determine the viability of battery power for transportation.
Like its competitors, Volkswagen has shown interest in hydrogen fuel, but has done little in the way of adopting the alternative energy.
Earlier in the year, Volkswagen announced that it would be building one hydrogen-powered vehicle, but that vehicle may not be prepared for the commercial market until 2017, well behind the offerings of competitors. The automaker may change its tune after a hydrogen fuel infrastructure becomes a tangible reality, but such a goal is still several years away from being accomplished.