Waste to energy plant comes online in Wales
August 8, 2014
The biggest food to waste power facility in Wales begins operation and will recycle over 22,000 tons of food waste annually.
Biogen's £7.5 million Waen waste to energy plant is located in Denbighshire and will produce 1 megawatt (MW) of renewable energy for the national grid, which is about enough electricity to power 2,000 homes or the entire city of St. Asaph.
A bio-fertilizer will also be produced by the plant and supplied to local farmland.
The anaerobic digestion (AD) plant will be used for more than just generating power. The food waste will also be transformed into a bio-fertilizer that will be utilized on nearby farmland, making the facility even more practical and green and helping to ensure that what began on the farm ends back on the farm.
The food waste that is brought to the facility comes from a group of Flintshire, Conwy and Denbighshire local authorities, with each collecting food waste from businesses and residents in these areas.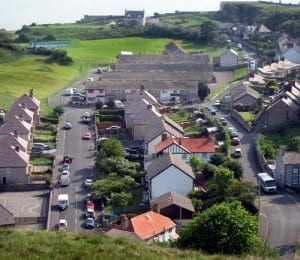 Biogen's chief executive, Julian O'Neill stated that "The Waen plant and our other projects in Wales and in England are making a significant contribution to the target of meeting 15 per cent of the UK's energy demand through renewable sources by 2020." O'Neill added that the company is pleased to be working together with Conwy County Borough Council, Flintshire County Council and Denbighshire County Council to assist these local authorities "and Wales as a whole, lead the way in recycling food waste to create green energy."
Sam Bates, the Denbighshire County Council's waste operations manager also said of the partnership that the county is quite proud of the anaerobic digestion facility and is also happy that residents of all three counties will be able to participate in the food waste recycling and renewable energy system.
More waste to energy plants are scheduled to be commissioned next year.
The Waen AD facility is the fourth operational plant in the United Kingdom from Biogen. Combined, all of its green energy sites bring in over 150,000 tons every year. However, in addition to this waste to energy facility, the company's 45,000 ton Bygrave green power plant located in Hertfordshire is due to be up and running by the end of the year. Also, in 2015, two more plants are set to be commissioned in Rhondda Cynon Taff and Warwickshire.