Aston Martin to co-develop electric car with LeEco
February 24, 2016
The two companies will produce an electric vehicle by 2018.
British luxury automaker, Aston Martin, famously known for its cars developed for the James Bond movies, recently announced that it has parented with Beijing-based Chinese consumer electronics company, LeEco to manufacture the RapidE electric car. The car, which will be Aston Martin's first electric vehicle (EV), is set to be made in Gaydon England and will come to market in 2018.
The partnership is an example of growing ties between the automotive and technology industries.
According to a Reuters article, LeEco and other tech companies are focusing on developing automotive expertise to extend their reach beyond cell phones and computers into cars. On the other hand, auto manufacturers want the technology that these companies can provide incorporated into their cars to provide drivers with live traffic reports and infotainment.
The electric car that Aston Martin and LeEco plan to develop will be based on the British carmaker's Rapide S model. From there, the two companies may develop other potential EVs, as the Aston-LeEco joint statement said the partnership could also result in the development of a Faraday Future vehicle.
The electric car version of the Rapid is likely to have comparable performance to the gasoline model.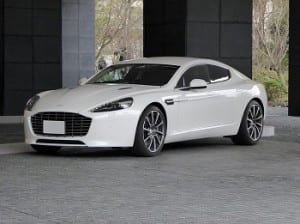 The EV will be the production version of the RapidE prototype that Aston revealed in 2015. This means that the electric version will retain the sleek bodywork of the standard car but, beyond that, the automaker has not released official details about the car, such as its power or range figures.
That being said, Andy Palmer, CEO of Aston Martin, said that the electric version of the Rapide could have 800 to 1,000 horsepower. However, even if it doesn't quite meet these targets, consumers can expect the performance of the RapidE to likely be comparable to the Rapide S.
The deal between Aston and LeEco appears to be beneficial for both companies. Aston is a small carmaker. Therefore, it needs wealthy benefactors to fund the development of new vehicles. On the flip side, LeEco could use the knowledge of an established automaker like Aston to help it successfully break into the electric car business. Electric vehicles are being heavily promoted by the Chinese government as part of the nation's effort to help combat the smog that frequently blankets cities.