Intelligent Energy to develop a hydrogen fuel cell for smartphones
February 24, 2016
Intelligent Energy partners with unknown smartphone maker to develop new fuel cell system
Intelligent Energy, a leading developer of hydrogen fuel cells, has announced that it has signed a Joint Development Agreement with an undisclosed smartphone maker. Together, these two organizations will be working to develop an embedded fuel cell system that is designed to power a smartphone for as much as a week. Intelligent Energy announced that it was working on such a fuel cell in November of 2015, but offered few details concerning the endeavor at that time.
$7.5 million project may solve the problem of short battery life for mobile devices
The project from Intelligent Energy and the smartphone maker is reportedly valued at $7.5 million. The fuel cell that will be used to power mobile devices will exist alongside a lithium-ion battery. Together, these two systems will allow a smartphone to operate for up to a week before needing to be charged. The new system from Intelligent Energy will be somewhat different than portable fuel cell chargers, as it will be embedded within a smartphone, providing electrical power without the device having to be connected to an external energy source.
Intelligent Energy already has experience in developing a small, portable fuel cell system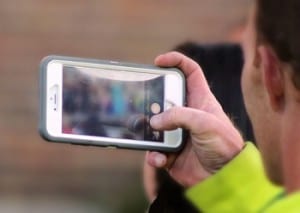 Intelligent Energy has already developed a portable charger that has become somewhat popular. The company's Upp charger features a modular design, which allows for fuel cells to be swapped with relative ease. The company may be tapping into experience derived through the development of the Upp charger to create its new embedded fuel cell system. The system will, of course, rely on the hydrogen infrastructure, which is not yet comprehensive, but this may not be a significant problem as the system will use relatively little hydrogen fuel.
Technology companies are showing more interest in small-scale fuel cells
Portable fuel cells are becoming more popular, as they can be used as reliable energy sources, especially for those that travel frequently. Technology companies are showing interest in using fuel cell technology to power mobile devices, as this may be a sound solution to the battery life issue of most modern smartphones.