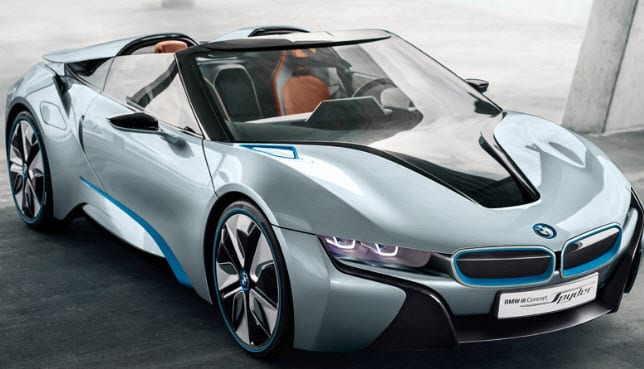 BMW unveils its electric-gas hybrid i8 Spyder concept car
April 7, 2012
Hybrid cars just got sexy
BMW is looking to expand its portfolio of alternative energy vehicles and has begun branching off from its interest in hydrogen fuel cells. The automaker is one of the many in the industry that has been focusing on hydrogen recently. Fuel cells have become the primary focus for the industry due to the fact that they can match or exceed the performance of internal combustion engines. BMW believes that hydrogen will not be the only thing powering future vehicles and claims that gasoline will still have a role to play in the industry.
BMW is well known for its line of high-performance vehicles.
The automaker recently unveiled what may be the most striking car it has made yet, called the i8 Spyder. The i8 is a variant of the company's popular Spyder line of supercars. Unlike its gas-guzzling counterpart, however, it is powered by a lithium-ion battery as well as a 3-cylinder gas engine. The battery powers a 130 horsepower electric motor that provides energy for most of the vehicle's functions as well as propelling it forward. The gas engine can reach more than 220 horsepower and is used primarily for speed.
Electric supercars are quite rare in the industry.
Few automakers have taken the plunge into developing such vehicles due to concerns regarding performance and viability of batteries and electric motors. Tesla Motors is, perhaps, the most well known manufacturer, considering the company only makes electric vehicles. Tesla vehicles have made strides in proving that electricity does not mean a lack of power in supercars. Porsche has also developed a hybrid supercar called the 911 GT3, but this vehicle will not be available for some time.
BMW's i8 Spyder may not be available any time soon either.
The vehicle is currently in the conceptual stages, meaning that it is very aesthetically appealing but has never actually been driven. BMW claims that the vehicle will enter production in the future; once it has tested the hybrid energy system it has powering the car. The i8 may one day be a welcome addition to the world of supercars, but will remain in the concept stage for the time being.