Buses with green technology to reduce GHG emissions in England
January 6, 2016
Hundreds of buses in England will be given a green makeover to improve air quality.
Almost 440 buses in England will receive a green technology upgrade, as the region works toward reducing greenhouse gas (GHG) emissions to improve air quality. According to an announcement from the Department for Transport (DfT), 18 local authorities made successful bids for about £7 million of funding to go ahead with the green tech plan, reported The Northern Echo.
The buses will be fitted with a selective catalytic reduction to reduce N2O emissions.
The hundreds of buses a part of the Clean Bus Technology Fund will be equipped with a selective catalytic reduction (SCR). This is an exhaust gas treatment system that will help to lower nitrogen oxide (N2O) emissions. This particular greenhouse gas is blamed for thousands of deaths in the United Kingdom each year.
The 439 buses that will be fitted with the green technology will include, among others, 34 in Gateshead and Sunderland and 121 in Yorkshire. It is expected that the upgraded vehicles in Gateshead and Sunderland will complete 150,000 journeys, annually, while those operating in York, Leeds, Harrogate, West Yorkshire and Sheffield will complete 420,000 cleaner journeys.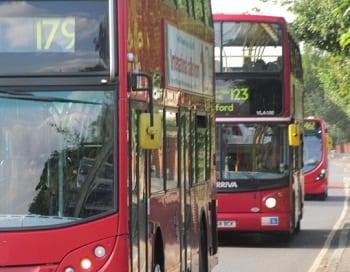 The green technology buses are part of a cleaner air plan.
Last month, the Government revealed its air quality plan, which focuses on developing clean air zones in five British cities in four years. The designated zones will utilize charging to help prevent the top polluting vehicles (ex. taxis, old diesel buses, lorries and coaches) from entering Leeds, Nottingham, Birmingham, Southampton, and Derby city centers. That being said, private cars will not be affected by this plan, much to the chagrin of some, such as the environmental group ClientEarth, which says that private cars are one of the largest sources of poor air quality in English cities.
On the other hand, by 2020, London also intends to implement a low emissions zone in its city that will apply to all vehicles.
Commenting on the buses, which will be upgraded with green technology, Transport Minister Andrew Jones said that "Greener buses mean cleaner town and city centres and a healthier environment for everyone." Jones added that "The upgraded buses that will soon hit the roads in England continue our commitment to better air quality by investing in greener transport."