Carnegie achieves success with its wave energy project
February 2, 2016
The ground-breaking CETO 5 Perth Project has completed 12 months of operations.
The Western Australia (WA)-based company, Carnegie Wave Energy, has successfully completed a full year of operating its innovative CETO 5 Perth Project, which marks the completion of its final milestone, which was one of the requirements for its many state and federal government grant funding agreements.
The company has submitted all CETO 5 grant milestone invoices.
The company officially turned on its onshore power station for its Perth Wave Energy Project 12 months ago. This marked the launch of the first commercial-scale grid-connected wave energy array in the world and the first time wave-generated power was fed into the grid in Australia.
Now, one year later, Carnegie has announced that it has submitted all grant milestone invoices, a total of AU $955,043, to the Government of Western Australia's Low Emissions Energy Development fund and the government's Australian Renewable Energy Agency (ARENA). In addition, the company has met every requirement of its LEEd funding agreement and received 100 percent of the grant payment from the WA government.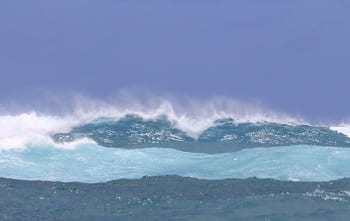 Carnegie has also received a milestone payment for completing its CETO 6 wave energy concept design.
The CETO 6 is an improved version of the CETO 5 design. For instance, the new design eliminated the need for heavy offshore lifts, simplifying its installation and maintenance. Its control systems are more advanced and will help to increase system efficiency, with power production contained inside the Buoyant Actuator. Moreover, instead of using a pipeline with high pressure fluid to deliver power onshore, as is the case with the current CETO 5 Perth project, the CETO 6 will deliver onshore power via an electrical export cable, which will help lower transmission losses.
What's more, the company says that by incorporating power generation equipment offshore, this will boost the market for CETO, which will make it possible to benefit from offshore resources and sites where waves are deeper and further from the shore.
Carnegie has already identified a preferred project site for the CETO 6 array; a site located 10km offshore from Garden Island.
Back in December, the wave energy company also announced that it has been awarded AU $800,000 in funding from the Australian government toward its plan to utilize its CETO technology for Mauritius, where it intends to develop a renewable energy microgrid for the island nation.