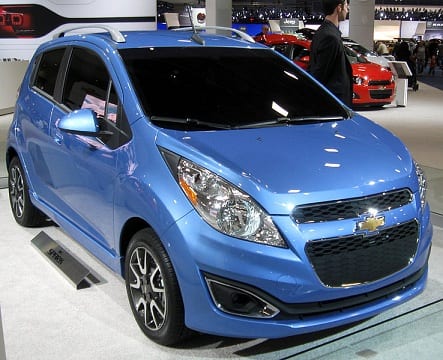 Chevy Spark revealed by Chevrolet
November 30, 2012

Automaker unveils new Chevy Spark electric vehicle
Chevrolet has revealed the Chevy Spark electric vehicle this week. The new model is billed as an improvement on the Chevy Volt, which has recently begun seeing a swell of support from consumers throughout the countries. Chevrolet is expected to push the Spark heavily in the coming months, as it is backed by a major federal tax incentive that makes it one of the most affordable electric vehicles that will be on the market.
Automakers continue to invest in alternative energy
Automakers from all over the world are working on developing alternatively powered vehicles. Many have chosen hydrogen fuel as their favored source of energy for these vehicles, but others, such as Chevrolet, still show commitment to battery electrics. The Chevy Spark is the latest development in the automakers continued work to produce electric vehicles that are friendly to both consumers and the environment. Many automakers are working to develop clean vehicles in an effort to comply with emissions standards coming from the world's governments.
Chevy Spark boasts of new technology and respectable performance
The Chevy Spark is relatively powerful for an electric vehicle of its size. The vehicle can accelerate from 0 to 60 miles per hour in under 8 seconds and boasts of 130 horsepower. Though the Chevy Spark has a lithium-ion battery that will give it range capabilities roughly similar, if not better than, other electric vehicles on the market, the vehicle is equipped with General Motors' fast charging technology. This technology allows the battery to reach 80% charge in just under 20 minutes.
Tax incentives make the Chevy Spark affordable
The major selling point of the Chevy Spark is the federal tax inventive that backs it. Before the incentive, the Chevy Spark is estimated to cost roughly $32,500, which is still less expensive than the Nissan Leaf. After the incentive, however, the Spark cost only $25,000. The vehicle will only be made available in California, Oregon, Canada, and South Korea, however, thus limiting the supply of the Chevy Spark quite significantly.