China is home to the world's first hydrogen fuel tram
March 25, 2015
0
By
Alicia Moore
New tram uses hydrogen fuel cell to power itself
The world's first hydrogen-powered tram has been put into service in China. The tram is located in the Shandong Province and will be operated by Sifang Co., a subsidiary of China South Rail Corporation. Liang Jianying, chief engineer of Sifang Co., notes that the tram is unique, making China the only country in the world that has a tramcar that is equipped with a hydrogen fuel cell.
Fuel cells continue to gain traction in the global transportation sector
The fuel cell that the tram uses consumes hydrogen in order to produce electrical power. These energy systems have become quite popular in the transportation sector, where automakers are using them to develop new vehicles that produce no harmful emissions. Public transit organizations have also been using these energy systems for buses and similar vehicles. Though fuel cells are somewhat expensive, they are capable of producing large amounts of electrical power in an environmentally friendly way, which makes them attractive to organizations that are interested in clean transportation.
Sifang Co. took two years to develop new fuel cell tram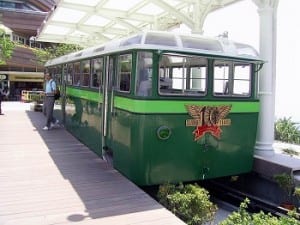 The fuel cell tram took two years to develop, during which time Sifang Co. worked to resolve some of the technical problems associated with hydrogen fuel cells. The organization had the aid of research institutions that were also interested in fuel cell technology. Working with these organizations helped accelerate the development of new fuel cells that are ideal for mass transportation. The tram can be refueled in less than three minutes and will be able to make three round trips before it must be fueled again.
Hydrogen fuel trams may become more common in China and other parts of the world in the coming years
Though this is the first tram to operate using hydrogen fuel, it may not be the last. Depending on the performance capabilities of the tram, similar vehicles may become operational in China in the coming years. There are concerns regarding the lack of a working hydrogen fuel infrastructure, however, which may limit the effectiveness of these trams, as well as their attractiveness.
About The Author
Alicia Moore's dedication to sustainable energy products goes beyond her writing. She actively seeks out new ways to live more sustainably, and encourages others to do the same. Her commitment to eco-friendly living is evident in her daily life, and she is always looking for ways to reduce her impact on the environment. What sets Alicia apart as a writer is her ability to communicate complex topics in a way that is accessible to everyone. Her passion for renewable energy is contagious, and her writing inspires readers to consider the ways in which they can make a positive impact on the planet. Ultimately, Alicia's work is driven by a desire to create a more sustainable and equitable world, and her writing serves as a powerful tool for achieving this goal.