New geothermal energy bill introduced in the U.S.
March 24, 2015
Two state senators join forces to encourage the production of geothermal power on public lands.
Idaho Senator Jim Risch teamed up with Oregon Senator Ron Wyden to reintroduce the Geothermal Production Expansion Act, a bill that prevents tentative bidders from hiking up the price of leases for geothermal energy projects, and enables the non-competitive leasing of a limited amount of public land at fair market value to encourage the growth of this renewable resource on hot spots that have already been identified.
Approximately 250 million acres of federal land has geothermal potential.
Idaho Statesman reported that it has been estimated by the Bureau of Land Management (BLM), a U.S. department which is responsible for managing geothermal projects on federal land under lease agreements, that nearly 250 million acres of federal land could be ideal geothermal hot spots. Approximately half of the total geothermal production capacity in America is made up of geothermal power projects that are generating energy under the BLM's management.
Combined, Idaho and Oregon have the potential to generate a minimum of 1,400 MW of electricity from geothermal energy.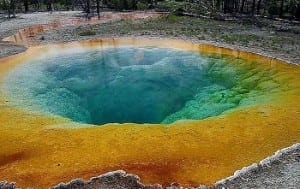 To put this into greater perspective, 1,400 megawatts (MW) is enough electricity to power over a million homes.
Senator Risch stated that "In Idaho and much of the West, geothermal energy is a largely untapped source of clean energy. This bill encourages its development and expansion by removing a layer of red tape that holds up production at geothermal facilities." He also said that less expensive energy that is reliable is the "backbone of any successful economy and must be expanded to meet future needs."
Senator Wyden added that hot springs, geysers, and volcanoes are reservoirs of the world's massive green energy potential. The bill makes these hot spots, which also include Oregon's Neal Hot Springs, available to only serious developers. In so doing, the bill helps to protect taxpayer dollars and stops speculators from hindering those who actually want to develop, therefore allowing theses serious developers to maximize on the incredible geothermal energy possibilities that exist.
Currently, U.S. Geothermal, which is based in Boise, Idaho, operates geothermal energy project in both Idaho and Oregon.