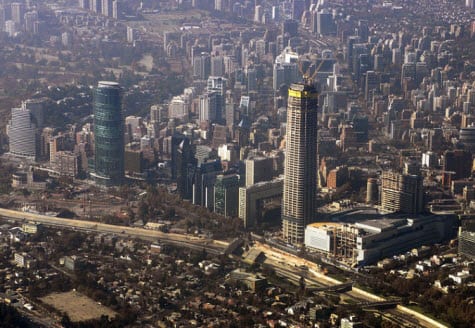 Companies team to boost solar energy in Chile
July 8, 2012

Partnership aims to install new solar energy plant in Chile
Sky Solar, a developer of solar energy systems, Sigdo Koppers, a Chilean conglomeration operating in numerous industries, and the China Development Bank have entered into an agreement that will bring a new solar energy power plan to Chile. The collaboration is expected to boost the solar energy capacity seen throughout South America. If successful, the initiative may also help establish a grid-parity solar energy market in the region. Such a feat may have a powerful impact on the Chilean economy as well as that of its neighbors.
Sky Solar investing heavily in countries receiving large amounts of radiation from the sun
Sky Solar is a leading developer of solar energy systems and has been working to make grid-parity technologies widely available. Two years ago, the company began investing heavily in the development of a solar energy market in countries that receive high amounts of radiation from the sun. Chile is among these countries.
Chile may be home to the most attractive solar energy market in the world
Chile is often considered an ideal location for a solar energy market to take root because of its stable government and environmentally friendly policies. The country has been experiencing more demand for electricity recently, which the government is hoping to offset with the introduction of new solar energy systems in the coming years. Sky Solar believes that the country is the most home to the most attractive solar energy markets in the world and expects that its collaboration with Sigdo Koppers and China Development Bank will find success.
Plant to bring 300 megawatts of electricity to country
The solar energy power plant will have a capacity of 300 megawatts and will cost approximately $900 million. A pilot project will be launched ahead of the construction of the plant, which will bring 18 megawatt ground-mount solar panels to Chile. This pilot project will help Sky Solar and its partners develop energy systems that are suited for the country's needs.
Related article(s) and resources:
http://cleantechnica.com/2012/07/05/sky-solar-china-development-bank-sigdo-koppers-to-invest-900-million-in-solar-pv-plants-in-chile/?utm_source=feedburner&utm_medium=feed&utm_campaign=Feed%3A+IM-cleantechnica+%28CleanTechnica%29