First-ever air pollution red alert issued in Beijing
December 9, 2015
High smog levels shut down schools, construction sites and reduce road traffic by half in China's capital.
On Monday, air pollution levels reached dangerous levels in Beijing, approaching 12 times the average daily level that is designated safe by the World Health Organization (WHO). As a result, a smog red alert was issued for the first time in Beijing history, a warning that lead to the enforcement of extreme rules to reduce air pollutants, such as encouraging schools to remain closed, stopping outdoor construction, and only permitting certain cars on the roads on certain days.
Severe pollution could affect the Chinese capital for several days.
According to a news report from Gizmodo, red alerts are supposed to be issued when air quality levels exceed 300 for three days in a row. Beijing's Municipal Bureau of Environmental Protection warned that severe pollution would affect the city for several days beginning Tuesday morning.
The U.S. Embassy in Beijing reported that the air quality index was 250 on Tuesday morning which is classified as "very unhealthy" and 10 times higher than the WHO's recommended levels.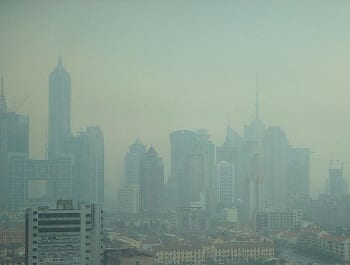 Air pollution warnings could have a devastating effect on health and the city's economy.
Such high levels of smog are highly dangerous to people's health, which is why the government is encouraging residents to stay indoors and why so many residents are wearing surgical masks when traveling outside, to help filter the bad air. Air pollution can be very toxic, containing a variety of substances from soot to lead, arsenic and other heavy metals. These toxins are not only hazardous to the lungs but also the heart.
In addition, smog red alerts can also be costly to the city, considering half the usual amount of cars are absent from the roads. To regulate the number of cars on city roads, Beijing citizens are allowed to only drive on certain days. This is determined by the ending of a vehicle's license plate number.
The air pollution red alert is expected to remain in effect until Thursday and city residents have been urged to remain inside and to avoid all outdoor exertion.