First offshore wind energy system begins operation in the US
August 12, 2016
Deepwater Wind has successfully completed a stage of its ambitious offshore project
The United States now has its first operational offshore wind energy system. Two large wind turbines have been installed off the coast of Rhode Island. These are the first wind turbines to be installed in U.S. waters. Deepwater Wind, a prominent wind developer, is behind the project, and expects to install three more wind turbines in the same area by the end of this month. The developer has ambitious plans when it comes to the development of offshore wind farms and notes that now is a time for great excitement and anxiety.
Many projects have failed to make progress in recent years
The project from Deepwater Wind has been in development for more than a decade. Many projects offshore wind energy projects have been proposed, but most of these projects have been denied, cancelled, or have stalled during various stages of development. Most of these projects have stalled due to financial issues, with developers unable to rise enough funding to complete their offshore wind farms. Developmets have also had struggles with regulatory issues and environmental concerns. The new wind project in Rhode Island could help alleviate environmental concerns and influence regulations to ensure that wind energy continues to grow.
Wind capacity continues to grow throughout the US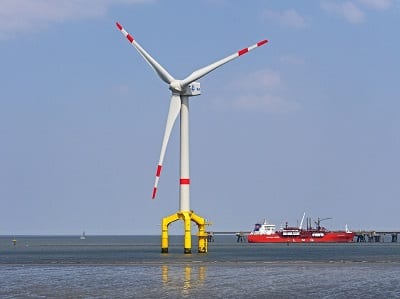 Deepwater Wind believes that its offshore wind energy project will be the success that will open the way for many new wind projects to take form. The project will be comprised of a total of five wind turbines. Once completed, the wind farm will generate approximately 30 megawatts of electricity, which is enough to power 17,000 average homes. The project has begun to attract more attention because it is the first of its kind to actually reach a stage of physical completion and begin producing energy.
Wind power continues to gather support
The United States is home to a rapidly growing wind energy market. Currently, onshore wind dominates the market, with Texas being home to the majority of operational wind capacity. Wind power is growing in prominence as the country looks to move away from fossil-fuels and embrace renewable energy. Wind has begun attracting significant support because of the economic benefits it offers as well.