Fracking industry in the UK may soon have tighter regulations
August 27, 2014
Not everyone in the UK believes that hydraulic fracturing is safe.
According to the Labour party, fracking rules in regard to drilling for natural gas are not strict enough and the party intends to try to make these regulations stronger by formally presenting a series of amendments to the infrastructure bill.
Public concern about drilling for shale gas has lead to several protests.
There are adequate safeguards in place for fracking for shale gas that meet voluntary agreements or current rules, according to the Department of Energy and Climate Change (Decc). That being said, the shadow energy mister, Tom Greatrex, believes the existing agreements are not sufficient.
Those who are opposed to hydrofracturing want whatever fluid is being pumped into the fracking wells to be disclosed for each individual fracking site. They also want environmental impact assessments for every frack site, as well as baseline monitoring for methane levels in groundwater.
Greatrex said that "Shale gas extraction must only be permitted to happen in the UK with robust regulation and comprehensive monitoring. Too often, David Cameron's government has ignored genuine and legitimate environmental concerns in pursuit of a rhetoric-led policy."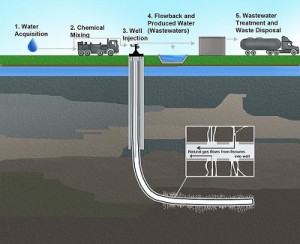 Greatrex also believes that when it comes to the planning of shale gas wells, water companies should have a bigger say and he wants baseline monitoring to occur over a period of 12 months.
The Labour party says commitments made by the fracking industry are not enough.
Even though Decc has stated that a string of measures had been put in place to make certain that drilling for shale could be carried out safely and cover all of the Labour party's issues, the party has said that any commitments that the industry has claimed to make are not good enough to put the public at ease. A spokesperson for the Labour party stated that "If the government agrees these measures are a good idea they should sign them into law."
According to the National Grid, if the appropriate government policies are put into place, by the early 2030's, Britain's gas could come from the country's own shale. However, fears about the potentially dangerous impact fracking could have on human health and the environment has turned people sour to the practice. In other countries, including France, bans have been placed on the practice, leaving some to wonder if a ban is in the future for the UK.