Germany sets new renewable energy record
August 13, 2014
Germany has reached a new milestone in its adoption of clean energy
Germany has again set a new record in terms of renewable energy, according to the Fraunhofer Institute. The country has become one of the most active markets for clean energy in the world and has regularly set records in terms of renewable energy production. Over the past few years, Germany has served as an example for what can be accomplished with an aggressive focus on clean energy. The country's energy grid is considered to be one of the most reliable infrastructure's in the world and this is largely due to the efforts the country has made to update this infrastructure to support clean power.
31% of country's electrical power during first half of the year came from clean energy
Information from the Fraunhofer Institute shows that 31% of Germany's electrical power during the first half of 2014 was produced by renewable energy. Approximately 28% of this energy came from the country's massive solar sector, with 19% coming from wind power. Energy generation from conventional sources, with the exception of nuclear power, fell somewhat this year. Production from gas-powered facilities was recorded as half of what these facilities had been producing in 2010.
Solar and wind account for majority of Germany's renewable energy focus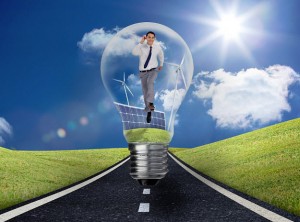 Germany has set new renewable energy production records several times over the past few years. Many of these records were set due to the country's very aggressive adoption of solar power. While Germany's focus on solar energy typically receives a great deal of attention, wind power has also helped the country break away from fossil-fuels and nuclear energy. Currently, Germany is one of the strongest supporters of wind power, especially that of the offshore variety.
Germany is an attractive clean energy market
Germany boasts of 37.5 gigawatts of solar energy capacity and 34.6 gigawatts of wind energy capacity currently. More capacity is likely to be introduced throughout 2015, but the adoption of renewable energy may be slowing down somewhat. Germany has been revising some of the incentives it has offered to support clean energy development. The country remains one of the most attractive clean energy markets in the world, however.