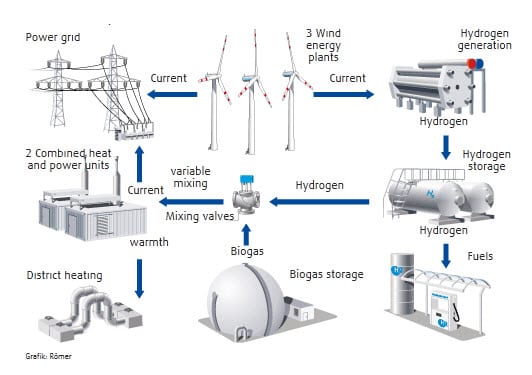 Germany to test new hydrogen storage tanks for use with new vehicles
February 16, 2012
Germany is keen to establish itself as a leading power in alternative energy.
The country's government has been investing in a variety of renewable fuel systems in recent years and is now turning its attention to the issue of energy storage. In Prenzlau, a city located 70 miles north of Berlin, a new kind of power plant has taken root. The plant combines wind energy with hydrogen. Essentially, the electricity generated by wind turbines is used to produce hydrogen gas, which is to be stored in new storage technologies developed by the government.
The new storage tanks are designed to be used with hydrogen-powered vehicles, but they must first be tested to ensure their safety. The energy system at the plant in Prenzlau can generate more than 120 cubic meters of hydrogen gas every hour – enough to power a vehicle for more than 700 miles. The company leading this new project is Enertrag, a wind energy company.
The company hopes that the new project will be met with success and that the tanks will be ready for use with new hydrogen-powered vehicles that are coming in the near future.
Germany is currently home to some of the world's most ambitious and successful alternative energy projects. For instance, the village of Wildpoldsried, located in northern Germany, has achieved completely energy independence through its use of wind and solar power. This was made possible by financial aid provided by the German government.
Daily articles on hydrogen fuel news posted.