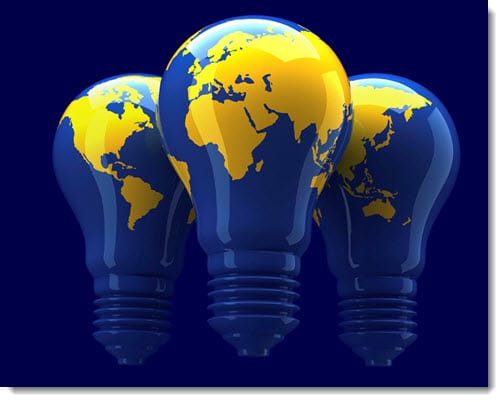 Global Wind Energy Council releases forecast of the worldwide wind energy market
April 20, 2012
Five-year forecast report highlights growth in Asia, Latin America, and African markets.
The Global Wind Energy Council has released a five-year industry forecast concerning wind energy and its projected progress throughout the world. The report details various factors that contribute to worldwide market growth and the possible capacity for the wind energy industry. The report suggests that the world's total global wind energy capacity will reach roughly 500 gigawatts of electricity by the end of 2016.This growth is partly due to the increasing popularity of alternative energy with the world's governments.
The report estimates that the wind energy market will see a growth of 8% every year for the next 5 years.
The Wind Energy Council expects that this year will be a very strong year for wind power, as more companies and governments begin to turn to alternative energy as a way to cut costs and reduce their impact on the environment. The organization predicts that 2013 may see a decrease in the momentum behind wind energy as the number of new energy projects drop. The projected drop is may also be due to governments making changes to the incentives and rebates they offer to alternative energy companies.
The Global Wind Energy Council believes that growth will be most pronounced in the markets of India and Brazil, with modest progress being made in Latin America, Africa and Asia. Steve Sawyer, Secretary General for the Global Wind Energy Council, notes that the wind industry, as a whole, faces daunting economic challenges that could prove to hamper growth over the next five years. Many nations around the world are struggling to many their own economic crisis. These problems are having an impact on the global economy and have made it more difficult for alternative energies, such as wind, solar and hydrogen, to find success.
The report suggests that the Asian market may be a world leader in terms of wind energy by the end of 2016.
 Asia alone is expected to have more than 200 gigawatts of installed wind energy capacity by this time – approximately two-fifths of the world's total capacity. Growth is expected to be most apparent in China, where the economy has largely stabilized and is beginning to show signs of continued sustainability.
---
Article: Global Wind Energy Council releases forecast of the worldwide wind energy market
Source: Hydrogen Fuel News
Author: Stephen Vagus
---
Global Wind Energy Council releases forecast of the worldwide wind energy market
---