Google forms partnership with wind energy company
January 29, 2014
Google continues to show strong support for wind and other forms of clean energy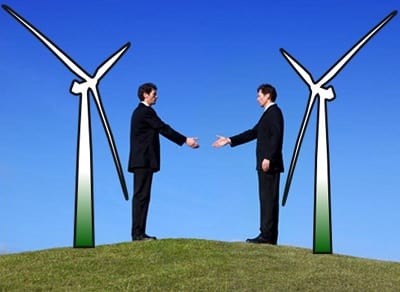 Google has been making aggressive moves in the clean energy sector recently. The company has a great deal of interest in clean power because of its economic potential as well as its environmental friendliness. Like other large companies, Google is often targeted by environmentalist groups and criticized for its lack of support concerning renewable energy. In recent years, however, such criticisms have missed the mark, as Google has invested heavily in various forms of clean power and clean technology.
New power purchase agreement formed with Eolus Vind in Sweden
Google has entered into a new agreement with Sweden's Eolus Vind, a prominent wind energy company. Through this agreement, Google will be purchasing the electricity that the company generates through its 29 wind turbines located in the southern reaches of Sweden. Together, these turbines produce approximately 59 megawatts worth of electrical power. Google suggests that this new partnership is a step forward in its plans to become 100% reliant on clean energy.
Google continues to find ways to adopt renewable energy and move away from fossil-fuels
Wind energy has managed to attract strong attention from Google and the company has invested heavily in this form of clean power in recent years. Wind is quickly becoming one of Google's strongest focuses when it comes to the issue of electrical power, but the company has also invested in other forms of clean power, such as solar energy and biofuels. Like other large companies, Google is also involved in research efforts concerning the use of clean power and its viability for business operations in the future.
Partnership may help Eolus Vind expand its projects
The partnership with Eolus Vind is set to last for the next 10 years. Google believes that long-term power purchase agreements will provide wind energy developers with financial support for their projects. Through these long-standing arrangements, companies like Eolus Vind may be able to increase the energy capacity of their wind projects, thereby adding further benefit to their power purchase agreements and opening up new opportunities for similar arrangements.