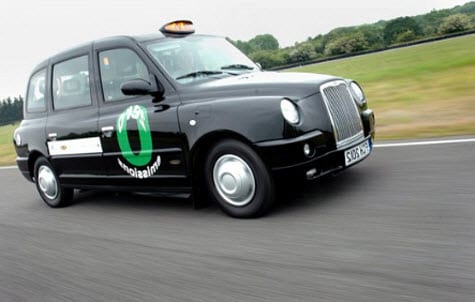 Hydrogen powered taxis reach milestone in London
October 2, 2012

HyTEC shows the viability of hydrogen powered vehicles
London's fleet of hydrogen powered taxis have been operating since early 2011 and they have made significant progress in between then and now. The cabs are provided to London through the Hydrogen Transport for European Cities (HyTEC) projects, which aims to promote hydrogen transportation throughout Europe's largest cities. The first step of the ambitious project was to deploy hydrogen powered taxis to the United Kingdom. These taxis have recently reached a major milestone, which may go a long way in proving the viability of hydrogen transportation.
Hydrogen powered taxis pass the 2,500 mile mark
The hydrogen powered taxis have traveled more than 2.500 miles since they began operating in 2011. The vehicles receive their fuel from a hydrogen fuel station located at the Heathrow airport. The taxis were developed by technology company Intelligent Energy and The London Taxi Company. The vehicles were launched in London and received modest fanfare. It was not until the 2012 Olympic Games did the hydrogen powered taxis receive a great deal of attention.
Hydrogen transportation enters limelight during 2012 Olympic Games
Hydrogen fuel is used to power some of the buses that operate in and around London. When the Olympic Games came to the United Kingdom earlier this year, these buses ceased to operate for various reasons. The hydrogen powered taxis took their place, but were not used to transport anyone and everyone. Instead, the vehicles were used to chauffeur guests of the government and foreign dignitaries around the town during the Olympic Games.
HyTEC to formulate plan for the large scale deployment of hydrogen powered vehicles
London's taxi drivers that have operated the vehicles praise the taxis for their performance. Some claim that passengers have been stunned by how smooth and quiet the vehicles are compared to their conventional counterparts. HyTEC is currently collecting the data that has been generated through the vehicle's performance during the Olympic Games and is working to determine the best way to deploy hydrogen powered vehicles on a large scale.