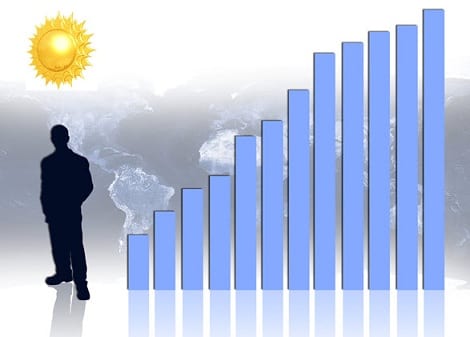 Solar energy growth highlighted by new report
March 21, 2013

Report details growth of US solar energy
GTM Research, a leading market research firm, and the Solar Energy Industries Association, a solar energy trade group, have released a new report concerning the growth of the solar energy industry in the U.S. The report, titled "The U.S. Solar Market Insight Report: Year in Review," highlights the strong growth that the U.S. market has seen throughout 2012. Much of this growth is backed by the efforts of state government, which have shown a strong interest in supporting and adoption renewable energy in various ways.
Industry grows by 76% in 2012
According to the report, 2012 was a record breaking year for the U.S. solar energy market. The report shows that the solar energy industry in the country grew by 76% in 2012. The country's solar capacity reached 3.31 gigawatts, 40% higher than what this capacity had been in the past. Due to this strong growth, the solar energy industry has reached $11.5 billion in valuation, up from 2011's $8.6 billion.
Government support helps propel solar adoption
Many state governments throughout the U.S. have shown strong support for solar energy. California, in particular, has introduced several policies which promote the adoption of solar power either through financial incentives or the potential for tax credits. The federal government has put emphasis on solar energy as well in order to help the country meet its renewable energy and emissions reduction goals in the coming year. Beyond government support, the continually dropping prices of photovoltaic solar panels is also contributing to the growth of the solar energy industry.
California remains leader in solar power
The report shows that California remains the leader in solar energy within the U.S. The state boasts of more solar installations that any other in the country. Arizona comes in second in terms of solar installations, with New Jersey, Hawaii, and Nevada following up. The only area that California does not excel in the use of solar energy is its utilities. Many California utilities continue to remain focused on fossil-fuels, though the report suggests that this will change later in 2013.