Hyundai to launch new businesses based on hydrogen fuel cells
October 11, 2016
Automaker will create taxi and car-sharing services in order to expand reach of fuel cells
Automaker Hyundai has plans to expand its use of hydrogen fuel cells. The company already has a vehicle equipped with a fuel cell system, but Hyundai wants to increase the reach of clean technology and renewable energy systems throughout the world of transportation. The automaker has announced plans to launch new taxi and car-sharing services in South Korea. Both of these ventures will be making use of vehicles equipped with hydrogen fuel cells.
Taxi service will use vehicles equipped with hydrogen fuel cells
The taxi service is expected to be launched by the end of the year and will operate in the city of Ulsan. Initially, the taxi fleet will be comprised of 10 ix35s, Hyundai's flagship fuel cell vehicle. The automaker plans to add 10 more of these vehicles to the fleet and expand its operation into other cities during the first half of next year. In 2018, Hyundai expects that the taxi service will be very popular, boasting of a fleet of more than 100 fuel cell vehicles and operating in five cities.
Hyundai teams with J'Car for new car-sharing service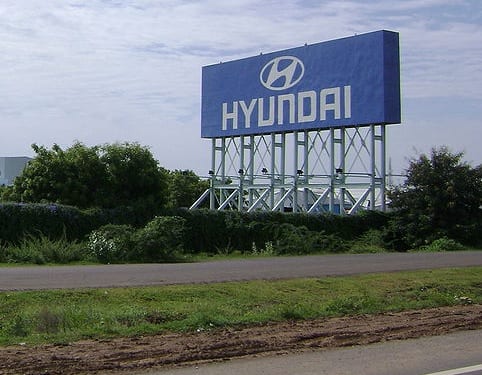 Hyundai also wants to launch a new car-sharing business. The company has partnered with a startup called J'car, which will be putting Hyundai's fuel cell vehicles into service. Initially, 15 of these vehicles will be available to consumers. Another 15 conventional electric vehicles will also be made available by the end of the year. By the year 2020, Hyundai is expected to have approximately 300 clean vehicles available through the car-sharing business it is working to form with J'Car.
Infrastructure support is needed for hydrogen fuel cells to become popular in transportation
Hyundai has shown a great deal of faith in hydrogen fuel cells and how they can be used to power vehicles, but the automaker has acknowledged that there are many challenges fuel cell vehicles still face. One such challenge is the lack of a hydrogen infrastructure capable of supporting consumer vehicles. Hyundai, as well as the South Korean government, is working to solve this particular problem through investments and other efforts. Many new hydrogen stations are expected to come online throughout the country by the end of this year.