Hyundai works to promote hydrogen fuel vehicle in UK
September 2, 2014
Hyundai teams with London College of Fashion to promote brand awareness
Hyundai's United Kingdom division has announced that it will be collaborating with London College of Fashion in order to increase brand awareness for the ix35 fuel cell vehicle. Hyundai is one of the first automakers to begin mass production on its fuel cell vehicles and the ix35 has already managed to attract a great deal of support throughout Europe. Hyundai has been aggressively working to generate more hype behind its fuel cell vehicle in order to ensure that the vehicle is not ignored by consumers.
Partnership will task London College of Fashion students with creating a mobile marketing campaign
Through the partnership with London College of Fashion, some 159 students will be tasked with creating a mobile marketing campaign for Hyundai UK. The campaign will focus on the environmental benefits of clean transportation and the capabilities of Hyundai's fuel cell vehicle. The ix35 has been billed as one of the most efficient and environmentally friendly vehicles ever made and Hyundai believes that it will help unlock a new future of sustainable transportation.
Ix35 vehicle continues to generate hype throughout Europe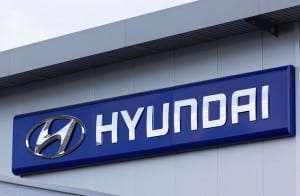 Students will also compete to have their visual marketing material affixed to Hyundai's fuel cell vehicles that will be used to transport important guests during an upcoming event in June 2014. Hyundai's vehicles have been used for such a purpose before in other parts of Europe. Indeed, the European Parliament has even made use of these vehicles for the past few years for personal and professional transportation.
Hyundai intends to launch its fuel cell vehicle in many markets by the end of the year
Hyundai is one of the few automakers in the world that has begun to market fuel cell vehicles. Many automakers are waiting to promote their vehicles until these vehicles are closer to their launch date. Hyundai plans to commercialize its ix35 by the end of this year, but other companies intend to wait before they launch their own vehicles into the market. Most automaker intend to wait until a working hydrogen fuel infrastructure takes form before they launch their fuel cell vehicles.