Lego seeks sustainable material replacement for its plastic toys
June 26, 2015
The goal is to produce environmentally friendly Lego by 2030.
World-renowned Danish toy company, The Lego Group, has recently announced that it is working on a way to improve the environmental sustainability of its famous plastic building materials, and plans to spend 1 billion Danish Kroner ($180 million) over the next 15 years to research and develop a new sustainable material that it can use to make its bricks.
The company has already taken other environmentally friendly steps to boost its green image.
Although its plastic bricks many not be great for the environment, The Lego Group has taken other green steps to reduce its carbon footprint in recent years. In addition to making the packaging of its products more environmentally friendly, its facilities also use renewable energy sources for power, such as wind energy, whenever possible.
Now, however, according to Lego president Jørgen Vig Knudstorp, the company wants to accelerate its focus on materials.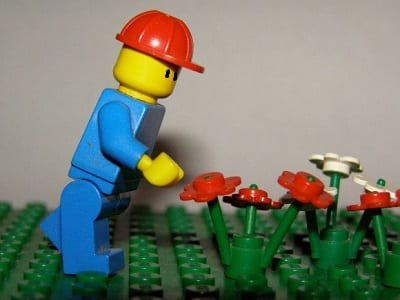 In its effort to achieve its goal, Lego will hire over 100 people by the end of 2016 for its newly announced "Lego Sustainable Materials Center," a new research center that the company plans to build in order to discover a sustainable raw materials replacement for Lego plastics by 2030.
In a statement, Knudstorp said that "This is a major step for the Lego Group on our way towards achieving our 2030 ambition on sustainable materials."
Finding a sustainable material replacement is easier said than done.
This isn't the first time that Lego has talked about bettering the sustainability of its plastic products. However, the company needs to make the change carefully. One of the problems it faces is that it has earned a reputation for its standardization, which customers have come to love about the product.
In short, Lego bricks that were made years and years ago, can still stick to the ones made today and be easily separated. This is because Lego bricks are made using acrylonitrie butadiene styrene, a plastic that is known for its ability to hold its shape under a variety of conditions and for its impact resistance. Thus, the wrong new material could change the "magic" of Lego.
However, finding a new bio-based material is easier said than done. As Knudstorp points out, "There is no common definition of a sustainable material." He added that "Several factors influence the environmental sustainability of a material." This includes factors such as the material's composition, its source, and what results once it reaches its life's end.
That being said, while Lego definitely has a long road ahead in finding a suitable sustainable material replacement, its goal to discover an alternative is becoming increasingly important. This is particularly true when one considers that last year, alone, Lego made over 60 billion plastic bricks, and makes more than 5 million bricks an hour. To produce its product, the company requires vast amounts of petrochemicals, which are not sustainable.