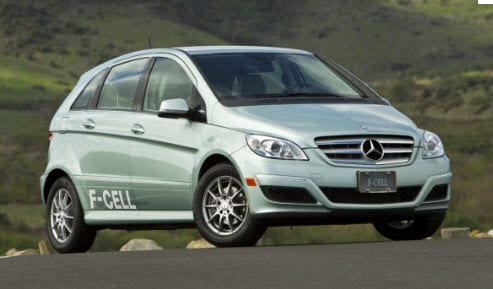 Mercedes-Benz announces development of two new hydrogen powered vehicles
May 17, 2012
Automaker has foundational experience with hydrogen fuel cells
Mercedes-Benz has announced that it will be releasing two hydrogen powered vehicles within the next few years. The automaker was one of the first to announce that it was developing a vehicle that used a hydrogen fuel cell as a power source. This vehicle, called the B-Class, garnered a great deal of acclaim after successfully completing a tour around the world. Three of Mercedes-Benz's B-Class vehicles were used for the tour, none of which experienced any significant problems throughout the course of the journey.
Mercedes plans to release new models in the next few years
The automaker now plans to introduce and release two new hydrogen-powered vehicle models in the coming years. Further in development is the auto makers F-Cell technology – preparing for the program's expansion to two additional models: Next generation F-Cell will be based on the new B-Class MY 2015 Subsequent models utilizing an existing platform are being evaluated and will be in a MB traditional body style (exact model, TBD) 60 F-Cells expected to be leased by US customers by end of year. Vehicle deliveries are scheduled to coincide with station availability (therefore focus in southern California and soon the SF Bay area)
Hydrogen fuel cells popular throughout the auto industry
Automakers have become enamored with fuel cells because of their ability to generate enough energy to be competitive with conventional engines. Fuel cells are often criticized for their cost, which translates into steep prices for the vehicles using them, but Mercedes-Benz claims that hydrogen-powered vehicles will become more affordable as the global market becomes saturated.
California to serve as initial home for new fuel cell vehicles
Mercedes-Benz plans to sell its new hydrogen-powered vehicles in California. The state was chosen because of the promising progress being made on the establishment of a hydrogen fuel infrastructure. The automaker has tentative plans to expand the release of the vehicles to New York, New Jersey and Connecticut in later years. This plan depends on the state of the hydrogen fuel infrastructure in these states by the time the vehicles are released. Currently, California is considered to be the ideal home for hydrogen-powered vehicles in the U.S. because of its favorable attitude toward alternative energy in general.